When is The Best Time to Visit Volcano Bay Water Park in 2024
When is The Best Time to Visit Volcano Bay Water Park?
Volcano Bay Water Park, part of the Universal Orlando Resort, beckons all with its thrilling water slides and attractions.
Deciding when to go can be pivotal to your experience. To assist in your planning, we're breaking down the best months to visit Universal's Volcano Bay while highlighting the average temperatures.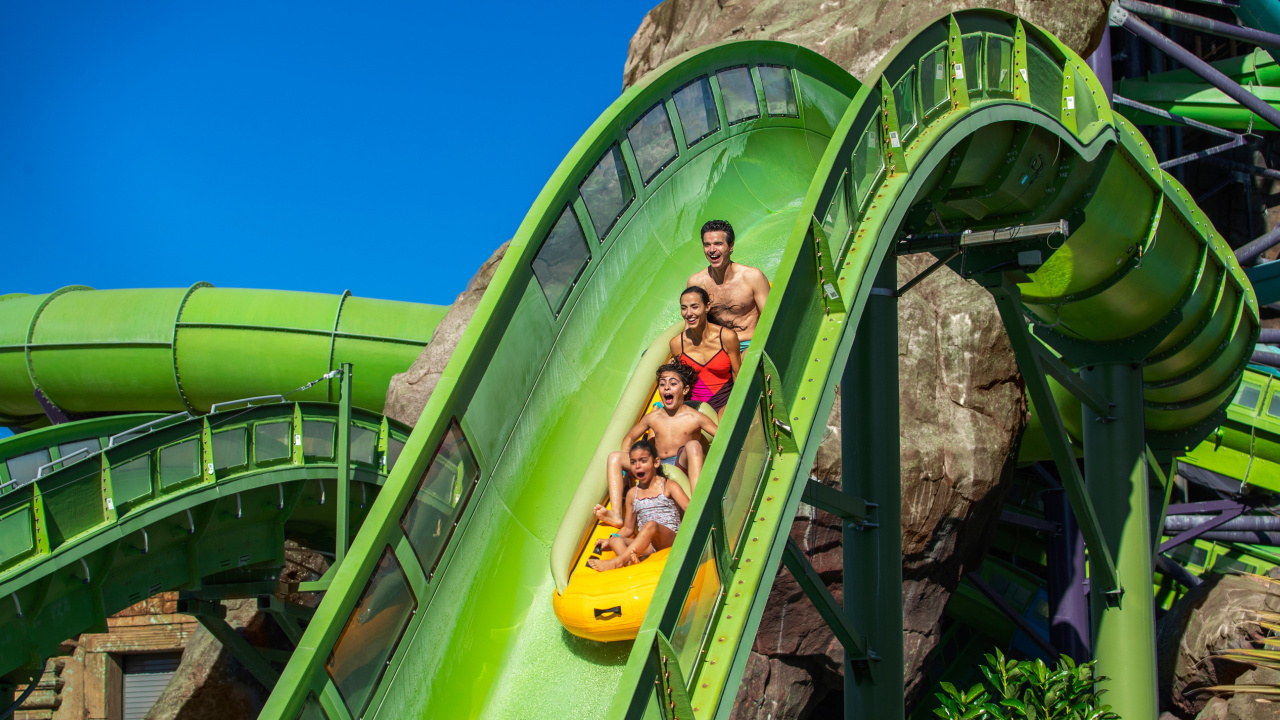 January
Average Temperature: 15-21°C
January is relatively cool, making it ideal for those looking to avoid both the heat and large crowds. With the park less populated, you can enjoy rides like the Krakatau Aqua Coaster with shorter wait times.
Besides, the chillier weather provides a unique opportunity to enjoy the warm waters of the rides without the scorching sun overhead.
Consider staying at the Cabana Bay during this month for a cosy retreat after your fun-filled day, and if you're feeling peckish, grab a slice of the Island BBQ Chicken Pizza.
February
Average Temperature: 16-23°C
As we move into February, temperatures start to inch up. While it's still on the cooler side, this month sees a rise in visitors, particularly during the school half-term.
To maximise your day, don't forget to use the Tapu Tapu virtual queue system, ensuring you experience attractions like the Ko'okiri Body Plunge.
However, don't let the potential crowds deter you. February evenings at Waturi Beach offer a serene ambiance, making it a perfect time for relaxation after a day of adventures.
March
Average Temperature: 18-26°C
With spring on the horizon, March ushers in warmer temperatures, drawing more visitors to the park. This month is excellent for water lovers. Float along the Kopiko Wai Winding River or dive headfirst into the more thrilling rides.
Though the park starts getting busier, the vibrant atmosphere adds to the overall experience. Make sure to hydrate with some tropical cocktails from the Dancing Dragons Boat Bar as you navigate through the park's attractions.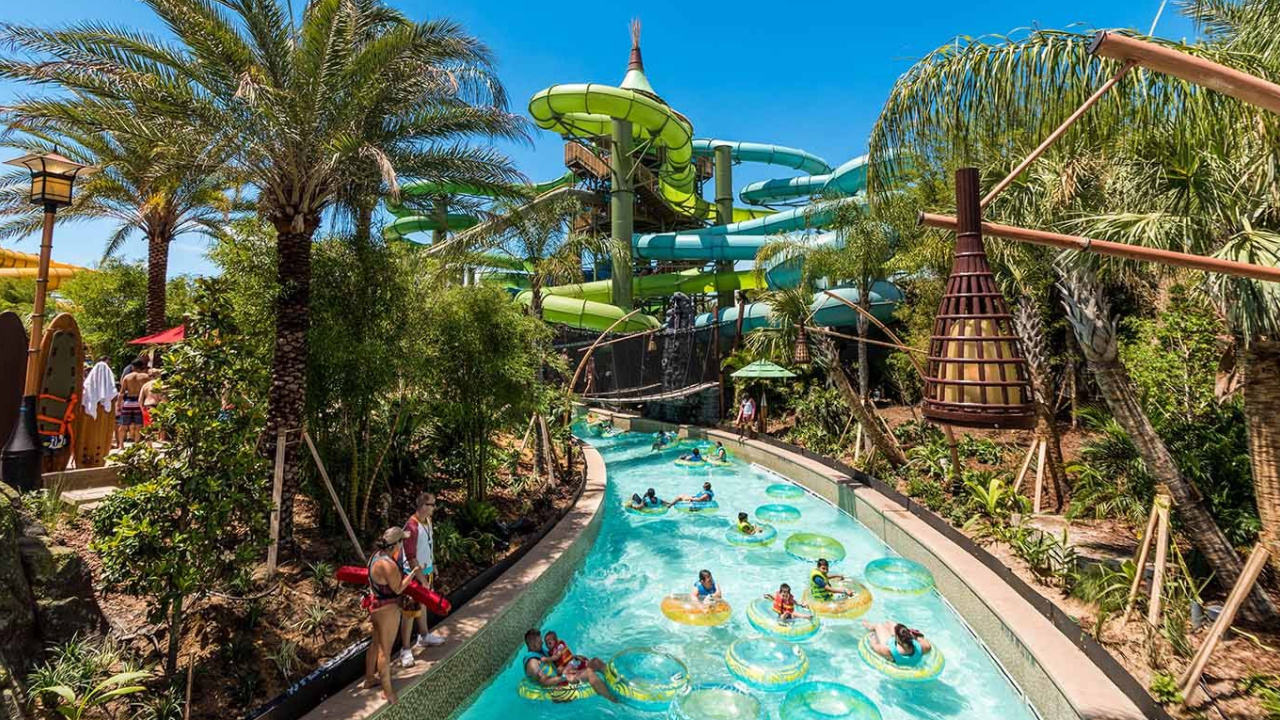 April
Average Temperature: 21-28°C
April's warmth makes the park's waters even more inviting. However, with Easter holidays, be prepared for a surge in families and kids.
The Ohno Drop Slides are a definite hit during this time, offering a refreshing escape from the sun.
Despite the crowd, there's a joyous spring energy in the air. Take breaks between rides to enjoy the sun at Waturi Beach and perhaps treat yourself to a Universal Express Pass for expedited access to your favourite attractions.
May
Average Temperature: 24-31°C
May is the perfect blend of balmy weather and exhilarating rides. Dive into Universal's Volcano Bay Rides, with the Maku Puihi Round Raft Rides being an absolute must-try this month.
The sun shines brighter, making every splash feel even more refreshing.
Late afternoons and early evenings see a drop in crowds, giving you a perfect window to explore attractions at a leisurely pace. And if you're in the mood for some unique flavours, try the Island cuisine at the various food stalls dotted across the park.
June
Average Temperature: 26-33°C
June marks the official onset of summer, bringing with it hot temperatures and bustling crowds. Thanks to the Tapu Tapu system, you can manage your day efficiently, especially when the park is at its peak. For a cool escape, the Fearless River is a top pick.
Remember, with great weather comes greater responsibility. Stay hydrated, wear sunscreen, and perhaps schedule your park visits during the early mornings or late afternoons to avoid the midday heat.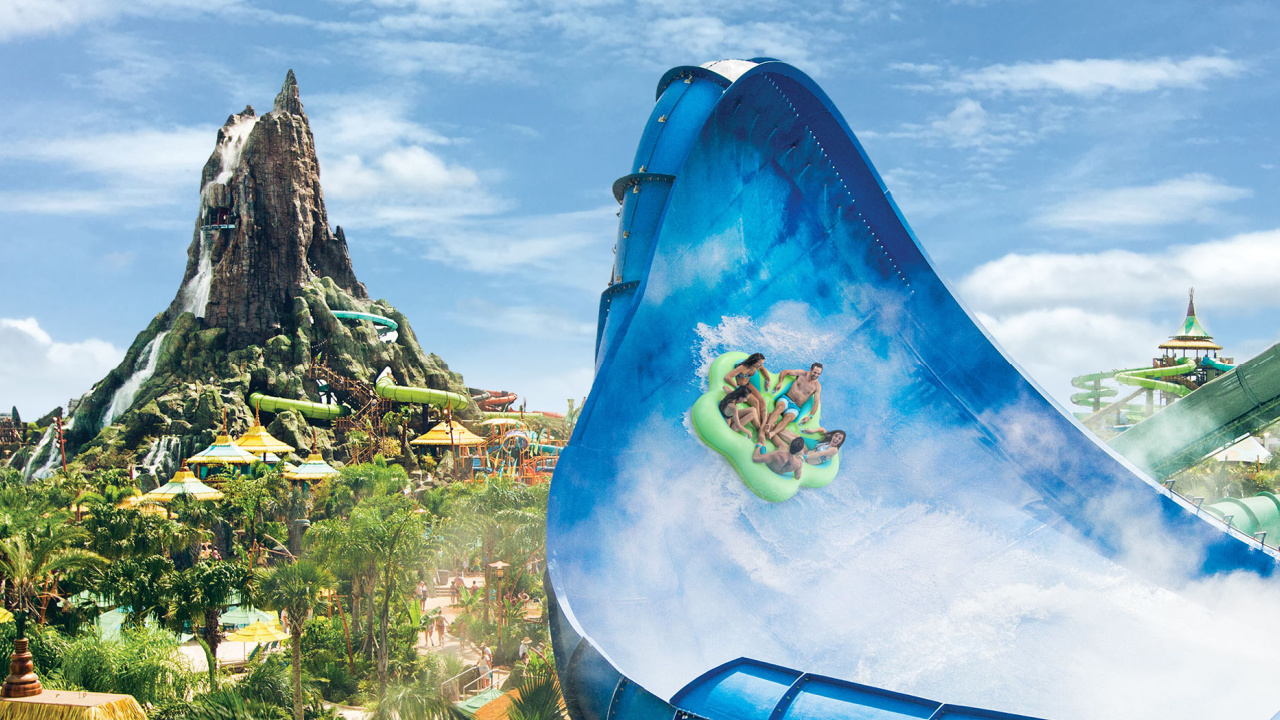 July
Average Temperature: 27-34°C
July is in full summer swing, which means both hot weather and a buzzing park atmosphere. Thrill-seekers won't want to miss out on the Tai Nui Serpentine Body Slides.
The adrenaline rush combined with the cool water provides a perfect respite from the heat.
If you're staying at the Universal Orlando Resort Hotels, utilise the early park admission benefit. This allows you to experience some rides before the general public, giving you a more relaxed start to your day.
August
Average Temperature: 27-33°C
While August continues to be hot and busy, there's an electric atmosphere in the park. School holidays mean families are out in full force.
But worry not, the lazy river offers a tranquil retreat amidst all the buzz.
In between rides, indulge in some shopping at Universal Citywalk or unwind at the park's various relaxation spots, offering both shade and scenic beauty.
September
Average Temperature: 25-32°C
With most schools back in session, September experiences a dip in crowds, making it a golden month for relaxed exploration. Dive into attractions like Runamukka Reef or kick back at the Tot Tiki Reef.
With slightly cooler evenings, consider scheduling a late afternoon to evening visit. The sunsets at Volcano Bay during this time are truly a sight to behold, making your visit even more memorable.
October
Average Temperature: 21-28°C
October brings pleasant weather, and with it, a more relaxed park environment. Whether you're exploring the Tot Tiki Reef or challenging yourself with the park's adrenaline-pumping rides, October offers a balanced experience.
The cooler evenings are particularly great for lounging by the pools or taking leisurely strolls around the park. And for those seeking some relaxation, the park's spa services are a must-try during this time.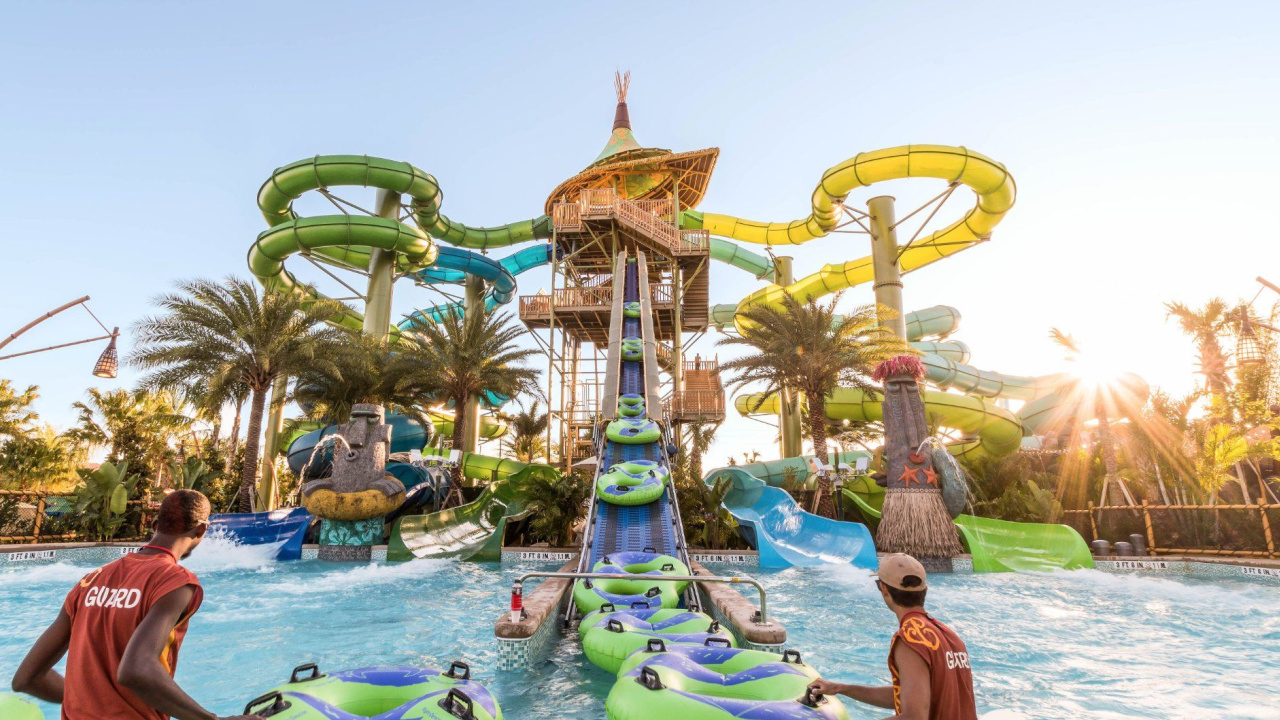 November
Average Temperature: 18-25°C
November offers mild temperatures and fewer crowds, allowing for a calm and pleasant park experience.
Dive into rides like Kala and Tai Nui without long waits or enjoy the myriad of shows and performances scattered throughout the day.
The month also sees a number of themed events leading up to the holiday season. Be on the lookout for special promotions, shows, and unique food items exclusive to this period.
December
Average Temperature: 15-22°C
December, with its festive mood, makes for an unforgettable time at Universal's Volcano Bay. While the month does see a rise in visitors due to the holidays, the spirit of celebration is in the air, making every moment special.
To wrap up your day, or even your year, indulge in some shopping at Universal Citywalk. From festive merchandise to unique souvenirs, there's something for everyone.
Conclusion
Every month offers a unique flavour at Volcano Bay Water Park. Armed with this detailed guide, you're all set to make the most of your trip, irrespective of when you choose to visit. Dive in and make a splash!
Also Read: Volcano Bay Height Requirements all the rides.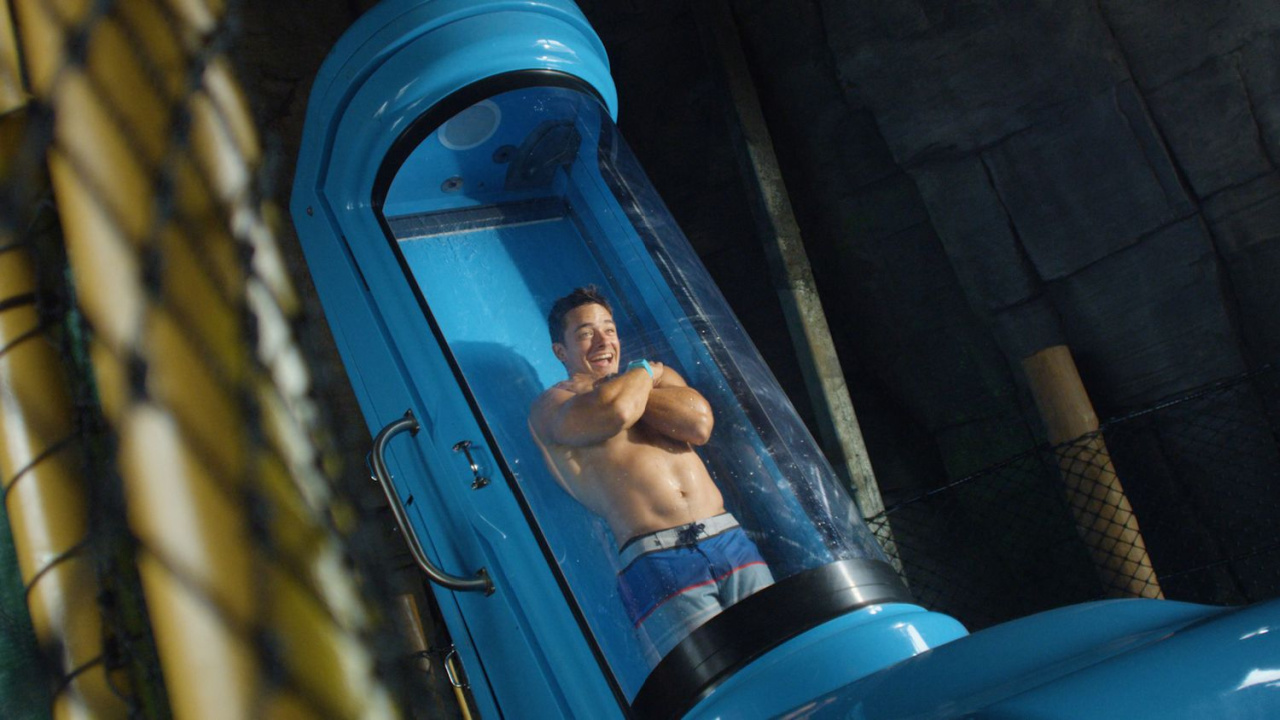 Frequently Asked Questions
Frequently asked questions about the monthly weather averages in Orlando.
What is the Orlando weather like in January?
In January, Orlando typically experiences temperatures ranging from 15°C to 21°C. It's a cooler month, making it perfect for those looking to enjoy the park without the intense summer heat.
What is the Orlando weather like in February?
February sees a slight rise in temperature, ranging between 16°C to 23°C. It's still relatively cool but offers a pleasant environment for enjoying water attractions.
What is the Orlando weather like in March?
March brings warmer temperatures, with averages ranging from 18°C to 26°C. As spring approaches, the weather gets more comfortable for water activities.
What is the Orlando weather like in April?
April offers a balmy climate, with temperatures typically between 21°C and 28°C. It's one of the months where the warmth starts becoming more pronounced.
What is the Orlando weather like in May?
May is when the summer vibes start kicking in with temperatures hovering between 24°C and 31°C. It's a month perfect for enjoying the sun and splash.
What is the Orlando weather like in June?
June marks the official onset of summer, with temperatures ranging from 26°C to 33°C. It's hot and vibrant, making water activities particularly refreshing.
What is the Orlando weather like in July?
July continues the summer trend, with temperatures between 27°C and 34°C. It's one of the hottest months, so visitors should be prepared for both heat and excitement.
What is the Orlando weather like in August?
In August, temperatures usually range between 27°C and 33°C. It remains hot, but there's an electrifying atmosphere in the park due to the peak holiday season.
What is the Orlando weather like in September?
September sees a slight dip in temperature, ranging from 25°C to 32°C. It's slightly cooler, especially towards the end of the month, making evening visits especially delightful.
What is the Orlando weather like in October?
October is more relaxed in terms of heat, with temperatures typically ranging between 21°C and 28°C. The pleasant climate makes it a popular month for visitors.
What is the Orlando weather like in November?
In November, the climate is mild, with temperatures between 18°C and 25°C. The cooler air provides a calm and enjoyable environment for park-goers.
What is the Orlando weather like in December?
December offers temperatures ranging from 15°C to 22°C. While it's cooler, the festive mood and celebrations in the park make it a unique time to visit.