Your Ultimate Guide to Discovery Cove Orlando for 2024
Your Guide to the All Inclusive Experience at Discovery Cove
Discovery Cove Orlando is hidden gem nestled in the heart of the city, Discovery Cove invites you to escape the ordinary and experience the extraordinary. This undiscovered tropical island allows you to connect with nature, make lifelong memories, and embark on exciting explorations at your own pace.
Whether you are seeking the thrill of swimming with dolphins or the serenity of a sun-soaked oasis, this resort provides a day of adventures and a lifetime of memories. With a daily limit on the number of visitors, Discovery Cove offers an exclusive retreat away from the hustle and bustle of typical theme parks. Here, it's not about rides or shows; it's about immersing yourself in nature and sharing unforgettable experiences with your loved ones.
From the moment you step onto the white sand beaches to the moment you say goodbye, you'll encounter unique animal interactions, indulge in freshly prepared meals, and soak up the sun in beautiful tropical settings. So, grab your sun hat, slather on the animal-safe sunscreen, and let's dive in!
Visit Discovery Cove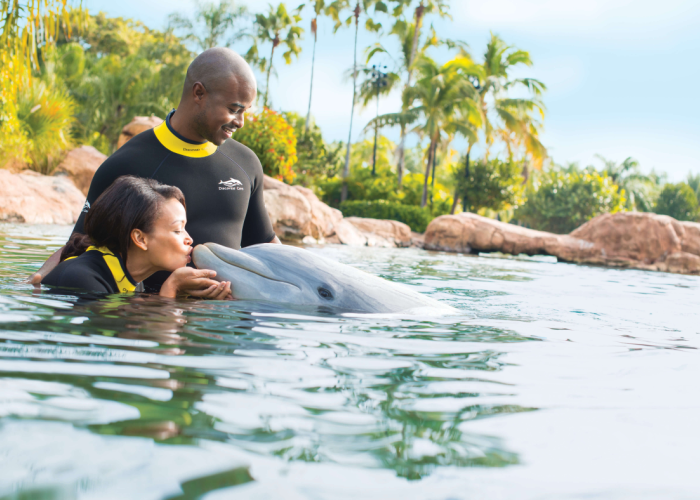 Discovery Cove Tickets and Packages:
Your journey to Discovery Cove Orlando starts with a simple choice – which experience suits you best? There are two main Discovery Cove packages to choose from: the Discovery Cove package and the Discovery Cove Ultimate Package. Both packages offer a full day of adventure, access to the Grand Reef, Explorer's Aviary, and a selection of inclusive meals and drinks throughout the day.
The main difference between the packages lies in the dolphin experience. The Dolphin Swim package offers a one-of-a-kind experience to interact with a beautiful Atlantic bottlenose dolphin in a crystal clear lagoon. The Non-Dolphin Swim option includes everything except the dolphin encounter. So whether you've always dreamt of swimming with dolphins or prefer to observe these graceful creatures from a distance, there's a package just for you.
Both packages come with additional benefits such as unlimited access to SeaWorld and Aquatica for 14 consecutive days. Opting for the Ultimate package opens the door to Busch Gardens too. So, the adventure doesn't end at Discovery Cove; instead, it is merely the beginning!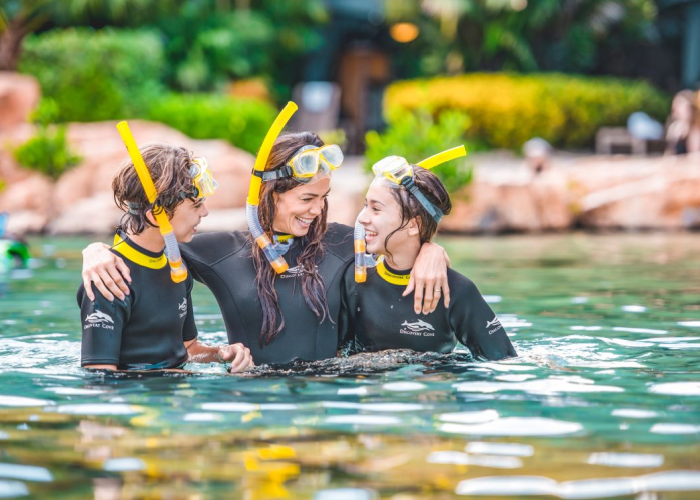 Discovery Cove Admission and Arrival
Upon arrival at Discovery Cove way Orlando, you will find yourself immersed in a lush landscape of rocky lagoons, cascading waterfalls, and pristine white-sand beaches. It's as if you've been transported to a far-off tropical island, and yet, you're still in the heart of Orlando.
Free parking ensures a stress-free start to your day, leaving you free to embrace the paradise that awaits. It's not often that a parking lot leads to such an enchanting destination, but at Discovery Cove, even the practicalities are handled with care, keeping you relaxed from the moment you arrive.
Every detail of the park is designed to evoke a sense of tranquillity and wonder. From the exotic birds fluttering overhead to the gentle sound of waterfalls, the ambiance is one of relaxation and discovery. It's time to leave your worries behind and let the adventures unfold.
Your Day at Discovery Cove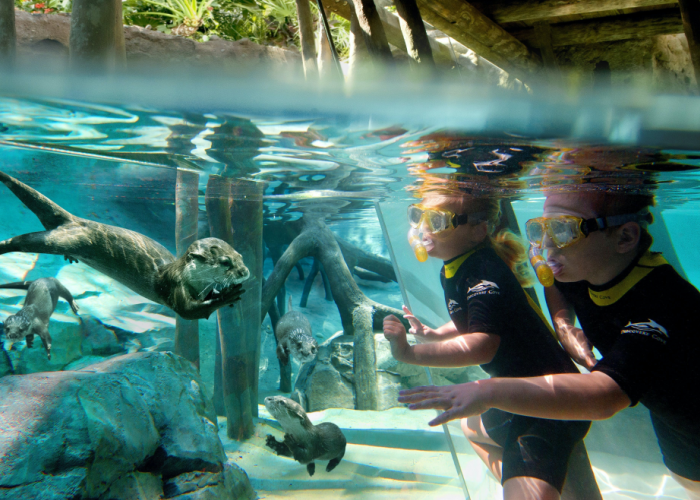 Dolphin Swim Experience:
The Dolphin Swim experience is the showstopper at Discovery Cove. This intimate encounter begins with an introduction to the wonderful world of dolphins, their behaviours, and how to interact with them respectfully and safely. Then, it's time for the magic to happen.
In small groups of no more than ten, you'll enter the clear waters of the dolphin lagoon for an unforgettable 30-minute encounter. You'll have the chance to touch, play, and even ride on the dorsal fin of one of these graceful creatures, a moment that will surely leave a lasting imprint on your heart.
Following this one-on-one experience, the day is yours to explore at your leisure. Discovery Cove isn't a park that rushes you from one attraction to the next. Instead, it invites you to relax, soak up the serene surroundings, and indulge in your surroundings.
The Grand Reef:
Your next stop is the Grand Reef, a vast underwater world that invites you to explore its nooks and crannies. Snorkel among an array of colourful tropical fish and rays, getting up close and personal with nature. Peer into the depths and watch the interaction of the various marine life, an experience that's both captivating and calming.
Should you prefer to observe from the side-lines, panoramic windows provide breath-taking views of the reef and its residents, including venomous lionfish and sharp-toothed reef sharks. Don't worry; they're safely behind the glass, offering a thrilling encounter without any risk.
Explorer's Aviary:
Beyond the towering waterfalls, you'll discover a hidden oasis – the Explorer's Aviary. Home to hundreds of exotic tropical birds, this free-flight aviary is an interactive experience unlike any other. Hold out your hand, and a feathered friend might just land, looking for a friendly face and a tasty treat.
As the vibrant wings flutter overhead and the melodic bird songs fill the air, you'll feel a world away from your everyday life. It's just one more unforgettable experience that awaits you in Discovery Cove.
Freshwater Oasis:
Next up is the Freshwater Oasis, a watery haven filled with face-to-face encounters. Here, you can wade through crystal-clear waterways or swim beneath cascading waterfalls. And the best part? You're sharing this adventure with playful otters and curious marmosets, who call this oasis their home. It's a unique chance to connect with nature in a truly magical setting.
There's nothing quite like watching these playful creatures frolic in their natural environment. And the best part is, there's no rush. Take your time, soak it all in, and relish the tranquillity of this peaceful retreat.
Serenity Bay and Wind-Away River:
Serenity Bay is a pristine beachfront pool where you can swim or wade in the warm waters. It's the ideal place to kick back and soak up some Florida sunshine, allowing the peaceful surroundings to soothe your soul. Float on your back, enjoy the warm sun on your face, and simply relax.
If you're more inclined to explore, the Wind-Away River is a lazy river that meanders through Discovery Cove. Grab a float and let the gentle current carry you through the tropical landscape, under bridges and past white-sand beaches. Float past a rainforest canopy, explore underwater caves, and pass by rocky lagoons, immersing yourself in the beauty of the surrounding nature.
Dining and Refreshments:
An adventure-filled day calls for some delicious food, and Discovery Cove doesn't disappoint. As part of your all-inclusive package, you'll enjoy a range of freshly prepared meals throughout the day.
Start your day with a continental breakfast at Laguna Grill, then come back for lunch where a variety of options awaits, from grilled entrees to fresh salads and delicious desserts. With drinks (including alcoholic beverages for the adults) and snacks available throughout the day, you won't go hungry.
Discovery Cove is dedicated to providing a top-notch dining experience that complements the overall adventure. Whether you're fuelling up for your next exploration or sitting down to relax and enjoy your meal, there's always something tasty to indulge in.

The All-Inclusive Dining Experience at Discovery Cove:
At Discovery Cove, the culinary scene is as much a part of the adventure as the marine life encounters. With their all-inclusive package, you'll get to enjoy freshly prepared meals, snacks, and drinks throughout the day. This dining concept ensures that you can focus on your adventures without worrying about your meal tickets.
Start your day with a bountiful continental breakfast. From fresh fruits and pastries to cereals and hot items, the breakfast selection caters to a wide range of dietary preferences. The morning meal sets the tone for a day filled with exploration and discovery, giving you the energy you need to tackle the park's many adventures.
Laguna Grill: The Main Dining Hub
When lunchtime rolls around, head over to the Laguna Grill, where the culinary team serves up a delectable selection of dishes. Whether you're a fan of hearty BBQ, grilled fish, or crisp salads, the menu promises something for every palate. For those with a sweet tooth, a range of desserts ensures a delightful end to your meal. And don't forget to enjoy the wide array of alcoholic and non-alcoholic beverages available as part of your package.
The seating is as inviting as the menu, with shaded tables surrounded by lush landscape, offering beautiful views while you dine. The restaurant caters to various dietary needs and preferences, so be sure to communicate any specific requirements to the attentive staff.
Snacks and Drinks Throughout the Day:
In addition to breakfast and lunch, the all-inclusive package includes unlimited snacks and drinks throughout your visit. Need to cool off from the Florida sun? Grab an ice-cold beverage or enjoy a frozen slushy. If you're feeling peckish in between your adventures, a selection of snacks like pretzels, cookies, and fresh fruits is available throughout the day.
Notably, there are also several stations set up around the park where you can hydrate and grab a quick bite. This means you can spend more time exploring and less time hunting down your next snack or drink.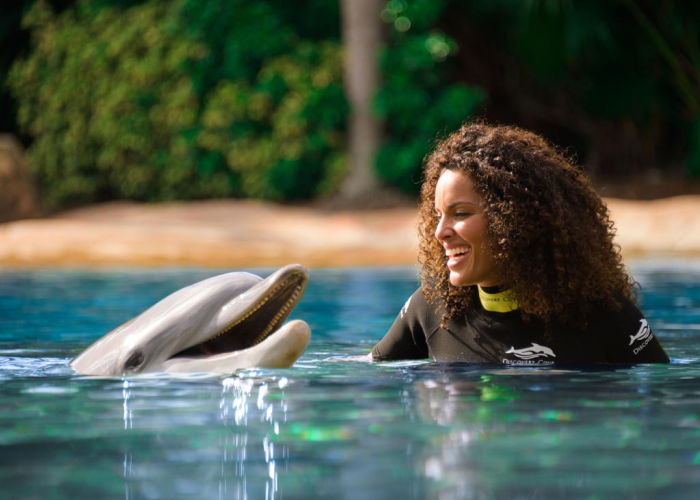 Dive Deeper with Discovery Cove Extras
To truly maximize your day at Discovery Cove Orlando, consider indulging in the park's premium experiences. These additional adventures, from the SeaVenture underwater walking tour to the unforgettable dolphin swim experience, take your visit from amazing to absolutely extraordinary.
Swim with Dolphins at Discovery Cove:
First up is the signature dolphin swim experience. This isn't merely observing dolphins from a distance but a fully immersive, interactive opportunity. You'll find yourself in the clear, warm waters of the dolphin lagoon, engaging with these gentle marine creatures in ways you've only dreamt of. With the help of a trainer, you can expect to come nose-to-bottle-nose with a dolphin, exchange playful gestures, and even hold onto their dorsal fin for a short, yet thrilling ride.
Kids, teens, and adults alike find this encounter a truly joyous and unforgettable part of their Discovery Cove visit. Please note that while this is an enchanting experience, children between 6-12 years old must be accompanied by a paying adult who is also participating in the dolphin swim experience.
Experience SeaVenture – The Grand Reef's Underwater Walking Tour:
If you're intrigued by the vast underwater world, don't miss out on the SeaVenture experience at Discovery Cove. This optional upgrade provides an opportunity to explore the Grand Reef in an entirely new way. It's essentially an underwater walking tour where you don a dive helmet and stroll along the reef floor.
You'll get up close and personal with a plethora of sea creatures – from vibrant tropical fish to elegant rays. And don't worry – even though you'll come close to sharp-toothed reef sharks, they'll be safely behind panoramic windows.
The SeaVenture experience lasts about an hour, with approximately 20-25 minutes spent underwater. No SCUBA certification is needed, and all equipment is provided. It's a unique and thrilling way to dive deeper into the world of marine life.
Whether you're a marine life enthusiast or seeking that extra dash of adventure, these optional experiences at Discovery Cove provide memories that last a lifetime. Remember, availability is limited, and these extras are quite popular, so it's advisable to book these in advance of your Discovery Cove visit date.
Make your day at Discovery Cove truly ultimate by adding these exceptional experiences to your itinerary.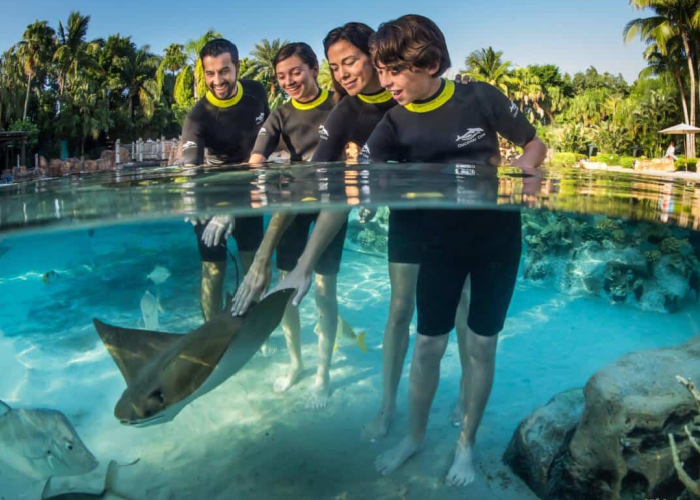 Where to Get Discovery Cove Tickets
To fully experience the tranquillity and exotic charm of Discovery Cove Orlando, you'll need to secure your Discovery Cove tickets. Here's your guide to obtaining these tickets from reliable vendors in the UK.
Official Discovery Cove Website:
The most direct source to purchase your Discovery Cove tickets is from the official Discovery Cove website. Here, you'll find a comprehensive list of available Discovery Cove packages tailored to provide you with the unique experiences this park has to offer. Whether you're interested in a relaxing day at Serenity Bay, or a more adventurous dolphin swim experience, the official website ensures you have all options at your fingertips.
Furthermore, booking directly through the official website also provides you with the most updated information regarding park policies, safety guidelines, and any changes or improvements to the facilities or experiences. It's an excellent resource for planning your Discovery Cove visit date.
AttractionTickets.com:
Another reliable platform to book tickets for Discovery Cove Orlando is AttractionTickets.com. A leading provider in the UK, AttractionTickets.com, offers a selection of Discovery Cove packages, including the sought-after Discovery Cove Ultimate Package.
Not only does this platform provide detailed descriptions of each package, but they also guarantee the best prices, making your booking experience convenient and budget-friendly. AttractionTickets.com is dedicated to making your visit to Discovery Cove Orlando a memorable one, and their easy-to-navigate website makes the planning process a breeze.
FloridaTix:
FloridaTix is a well-known UK-based vendor providing Discovery Cove tickets. Their website offers a wide range of packages with various inclusions, allowing you to tailor your experience to your preferences. Whether you're excited to interact with the playful otters at Freshwater Oasis or eager to take an underwater walking tour in the Grand Reef, FloridaTix offers packages to cater to your desires.
Moreover, FloridaTix prides itself on its exceptional customer service. Their team of experts can answer any queries you may have about Discovery Cove Orlando and the experiences it offers. This service makes the planning and booking process smooth and enjoyable, setting the tone for your forthcoming serene adventure.
Virgin Holidays:
Last but not least, Virgin Holidays, a prominent UK travel agency, offers Discovery Cove packages as part of their holiday offerings. If you're planning a more extended stay in Orlando and wish to explore beyond Discovery Cove, Virgin Holidays provides comprehensive packages that include hotel accommodations, transport, and theme park tickets.
In addition, Virgin Holidays provides a seamless booking experience, allowing you to manage all aspects of your vacation in one place. Their packages often include unlimited access to other SeaWorld parks, like Busch Gardens Tampa Bay and SeaWorld Orlando, which can add value and diversity to your Florida adventure.
Whichever vendor you choose, be sure to review each package in detail. Remember, there's a Discovery Cove package for every kind of visitor. Whether you're yearning for a dolphin swim experience, or eager to explore the Grand Reef teeming with tropical fish, there's a package tailored just for you. Secure your tickets, plan your perfect day at Discovery Cove Orlando, and prepare to immerse yourself in this haven of serenity.
Conclusion
A visit to Discovery Cove Orlando isn't just another day at a theme park. It's an immersive, relaxing, and unique experience that allows you to interact with a variety of wildlife, soak up the sun on pristine beaches, and enjoy a variety of water-filled trails and adventures.
With its lush landscapes, intimate encounters, and relaxed vibe, Discovery Cove offers an extraordinary day that will leave you and your family with memories to treasure forever. Whether you choose to fill your day with activities or spend it leisurely exploring and soaking up the sun, one thing is sure: a day at Discovery Cove is a day well spent.
From swimming with dolphins to feeding tropical birds, snorkelling in a grand reef to floating on a lazy river, this tropical paradise provides an escape like no other. Pack your swimwear, bring your sense of adventure, and get ready for a memorable experience in this sun-soaked oasis. Discovery Cove, Orlando, is waiting to share its secrets with you.
Frequently Asked Questions about Discovery Cove
Have questions about your visit to Discovery Cove Orlando? You're in the right place. From Discovery Cove packages to dolphin swim experiences, we've got answers.
Dive into our FAQ section and let's make planning your adventure simple and easy.
What can I expect from my visit to Discovery Cove Orlando?
At Discovery Cove Orlando, you can expect a full day of unique experiences. Enjoy a dolphin swim experience in the dolphin lagoon, snorkel with thousands of tropical fish and rays in the Grand Reef, and feed exotic birds in the free-flight aviary. You can also relax on pristine beaches and float down the tropical river at your own pace.
Are there dining options available at Discovery Cove Orlando?
Yes, Discovery Cove provides a variety of freshly prepared meals throughout your day. As part of the all-inclusive package, visitors can enjoy a continental breakfast, a delicious lunch, and various snacks and drinks throughout the day at no extra cost.
What is included in the Discovery Cove ultimate package?
The Discovery Cove Ultimate Package includes a full-day experience at Discovery Cove, with the option to add on a 30-minute dolphin swim. This package also provides 14 consecutive days of unlimited admission to SeaWorld Orlando, Aquatica Orlando, and Busch Gardens Tampa Bay. Free parking and transport to Busch Gardens via the Busch Gardens Shuttle Express are included too.
Do I need to bring my own snorkel gear to Discovery Cove Orlando?
No, you don't have to. Discovery Cove Orlando provides all guests with snorkel gear as part of the admission. However, for the safety of the animals, visitors are not allowed to bring their own snorkel gear.
Can children participate in the dolphin swim experience at Discovery Cove?
Yes, children can participate in the dolphin swim experience at Discovery Cove. However, children between 6-12 years old must be accompanied by a paying adult who is also participating in the dolphin swim experience.
How can I get to Busch Gardens from Discovery Cove Orlando?
With the Discovery Cove Ultimate Package, free coach transportation between Orlando and Busch Gardens Tampa Bay is provided aboard the Busch Gardens Shuttle Express for those who prefer not to drive.
Is Discovery Cove Orlando a certified autism center?
Yes, Discovery Cove Orlando is a Certified Autism Center designated by the International Board of Credentialing and Continuing Education Standards (IBCCES). This means that the staff is trained in autism sensitivity and awareness to accommodate all guests.
What is the address of Discovery Cove Orlando?
Discovery Cove Orlando is located at 6000 Discovery Cove Way, Orlando, FL 32821, United States.
Can we bring our cameras to Discovery Cove Orlando?
Yes, guests are welcome to bring their own cameras to capture their memorable moments at Discovery Cove. However, for the safety of animals and guests, cameras are not allowed during certain experiences like the dolphin swim experience.
What kind of animal encounters can I expect at Discovery Cove Orlando?
At Discovery Cove Orlando, guests can have face-to-face encounters with a range of wildlife. In addition to the memorable dolphin swim experience, you can explore the Grand Reef filled with tropical fish and rays, or venture into the Freshwater Oasis, where you'll meet playful otters. Bird lovers will appreciate the Explorer's Aviary, where you can feed a variety of tropical birds.
How do I book tickets for Discovery Cove Orlando?
Discovery Cove tickets can be easily booked online through the official website. There are several Discovery Cove packages to choose from, including the Discovery Cove Ultimate Package which offers unlimited visits to SeaWorld Orlando, Aquatica, and Busch Gardens Tampa Bay.
What's special about the underwater walking tour at Discovery Cove?
The underwater walking tour, known as SeaVenture, is an extra-charge experience at Discovery Cove where you wear a dive helmet and walk along the sea floor of the Grand Reef. You'll come across schools of tropical fish, graceful rays, and even see sharks behind panoramic windows!
What are the operating hours of Discovery Cove Orlando?
While it's best to check the official website for the most current information, typically Discovery Cove opens at 7:15am and closes around 5:30pm. It's a good idea to plan your Discovery Cove visit date ahead of time, as entry is limited to a specific number of guests each day to ensure an intimate experience.
How much is parking at Discovery Cove Orlando?
With any Discovery Cove package, guests can enjoy unlimited free parking. This benefit also extends to SeaWorld Orlando, Aquatica, and Busch Gardens Tampa Bay when you purchase the Discovery Cove Ultimate Package.