Disney Pin Trading: Beginners Guide to Pin Trading at Disney Parks
Disney Pin Trading: Beginners Guide to Pin Trading at Disney Parks
Disney Pin Trading is a fun and engaging hobby that allows you to collect an array of Disney pins. These pins feature beloved characters, popular attractions, and memorable events from the world of Disney.
It's not just about collecting, though. It's also a wonderful way to interact and connect with a community of other Disney lovers, making it an experience that's both personal and social.
Want to start Disney Pin Trading? We're here to help!
We'll teach you all the basics you need to know, so you can dive into Disney Pin Trading feeling confident.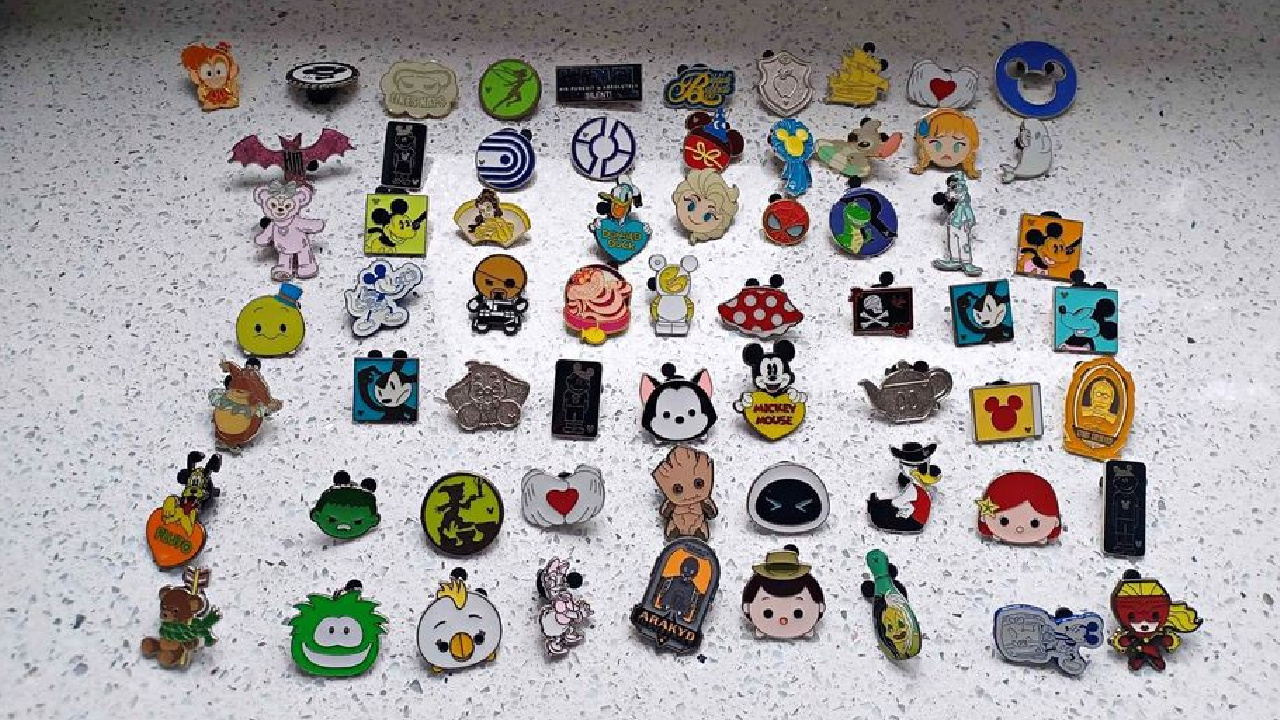 The Art of Disney Pin Trading
Disney Pin Trading is a delightful and interactive activity that has captured the hearts of Disney fans worldwide.
This entertaining hobby allows you to engage in collecting Disney pins, featuring unique pins with your beloved Disney characters, iconic attractions, and unforgettable events.
But what's the origin and process of this enchanting activity?
History of Disney Pin Trading
Our story begins with the Millennium Celebration in 1999, when Disney introduced Pin Trading as a thrilling new hobby for guests to buy and trade collectible pins featuring Disney characters and icons.
Initially a limited-time offering, Pin Trading has since evolved into a popular activity at Disney parks, with a wide variety of pins available for collectors to trade and collect.
The escalating popularity hinges on its exhilarating launch, the distinctive experience it provides park-goers, and the surge of pin enthusiasts that have notably amplified the market value of le pins during the pin event.
How Disney Pin Trading Works
Fundamentally, Disney Pin Trading revolves around exchanging trading pins with Cast Members and fellow guests. You'll find pins based on characters, rides, parks, holidays, and Disney movies, with a myriad of designs to choose from.
When trading, there are a few simple rules to follow:
Cast Members may only trade one pin from their lanyard or pad, but this rule can sometimes be bent for polite guests. Also, guests are allowed to make a maximum of two trades per Cast Member.
But how do you ascertain the value of a pin prior to trading? Several approaches exist:
Referencing pin trader publications or guides such as Tolbert's Guide
Researching on online auction and collecting platforms
Assessing the demand for the pin's theme
Pins featuring popular characters or attractions may hold greater value for those who collect pins.
Remember, pin values are subject to fluctuation, hence considering multiple sources for information is necessary.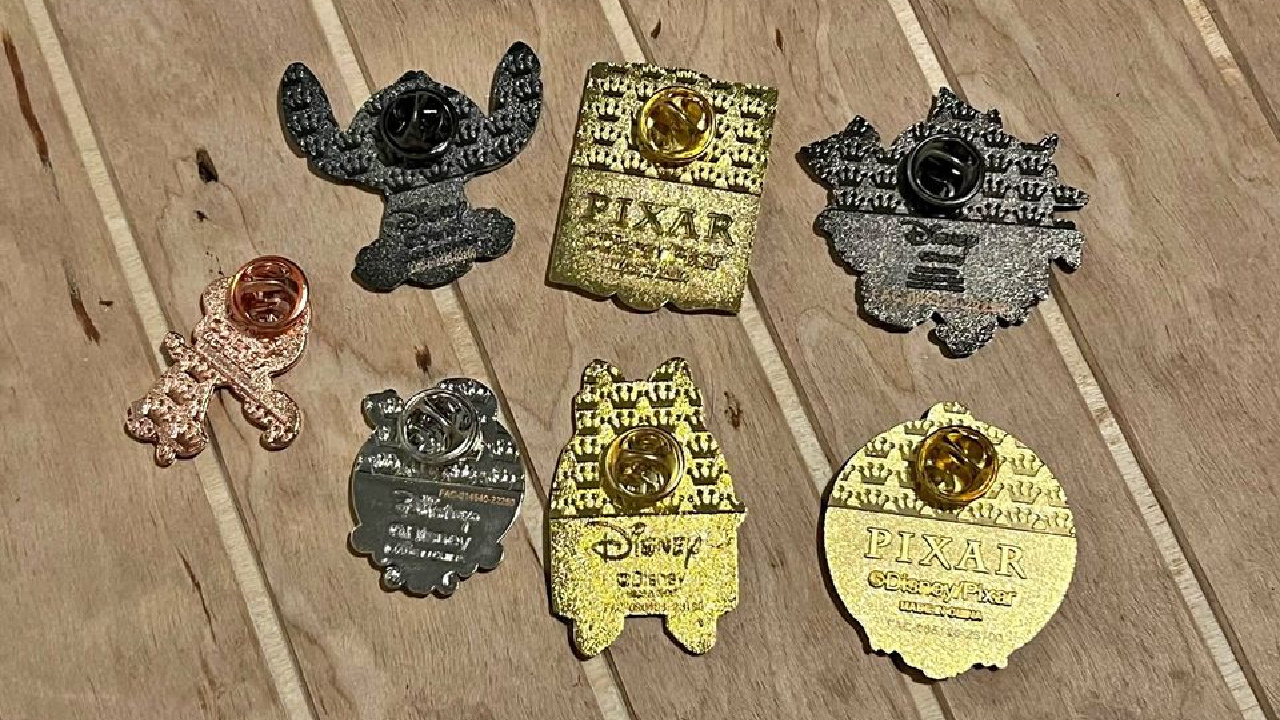 Building Your Disney Pin Collection
Having acquainted yourself with the practice of Disney Pin Trading, it's time to commence accumulating your collection!
To maximise your pin-collecting potential, consider purchasing starter packs and sets, which offer a cost-effective way to begin your collection and provide pins for trading.
Additionally, keep an eye out for limited edition and exclusive pins, as these can be more valuable and sought-after by collectors.
Starter Packs and Sets
Starter packs and sets serve as a splendid initiation to your Disney pin collection and supply pins for trading.
You can buy Disney Pin Trading Starter Sets at the Disney parks with prices usually around $34.99.
These sets typically include standard Disney pins based on movies and characters, with the specific types of pins varying depending on the set.
Limited Edition and Exclusive Pins
Limited edition Disney pins, also known as limited edition pins, have a predetermined release size and cease to be available once sold out.
These pins are typically of higher quality and have finer details compared to regular pins. Exclusive Disney pins, on the other hand, are released for a certain amount of time and are not available after that period.
To recognise a limited edition Disney pin, look for the following characteristics:
Limited Release
Edition Size
Quality
Authenticity
Official Disney markings on the back of the pin, such as the Disney copyright symbol, the official pin trading logo, and the name of the collection or event the pin is associated with, can help ensure authenticity.
Remember, it's always a good idea to purchase pins from reputable sources to avoid fake and scrapper pins.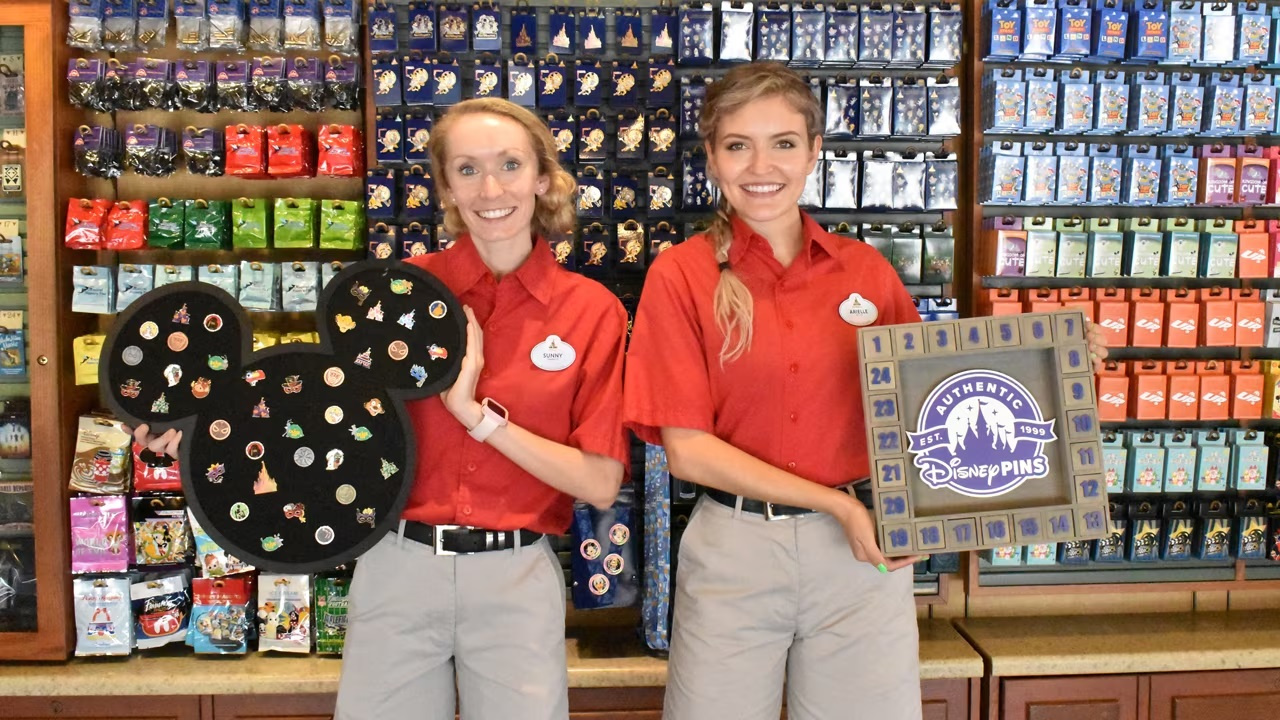 Trading Etiquette and Techniques
While trading Disney pins is a delightful activity, it necessitates appropriate manners and methods to guarantee a pleasant and unforgettable interaction for all participants.
In this section, we'll explore the essentials of trading with Cast Members and fellow guests, providing you with valuable tips to make the most of your pin trading encounters.
Trading with Cast Members
Disney Pin Trading Cast Members are employees of Disney parks who wear a lanyard or carry a pin board and are thrilled to trade pins with guests.
You can find Cast Members to trade pins with at merchandise locations in the parks or by locating a Cast Member wearing a lanyard or carrying a pin board.
When trading with Cast Members, remember to follow the rules for pin exchanges:
Cast Members cannot accept duplicate pins
Cast Members can only trade one pin from their lanyard or pad
However, this rule can sometimes be bent for polite guests
Guests are allowed to trade up to two pins per Cast Member or pinboard encounter, ensuring a fair and enjoyable trading experience.
Trading with Fellow Guests
Exchanging pins with other guests presents another thrilling facet of Disney Pin Trading.
When approaching fellow guests, it is essential to be courteous and kind. Don't be afraid to enthusiastically approach someone with a pin lanyard and politely ask if they would be interested in trading.
Remember to respect personal space and be mindful of others' preferences.
Negotiating a fair trade with fellow Disney pin collectors can be achieved by following these tips:
Show your pins and ask them to look at your collection first.
Communicate openly and honestly about the value of the pins.
Consider using a pin trading guide to determine the approximate value.
Be willing to compromise and find a middle ground.
The key to successful pin trading and collecting pins is open communication and mutual respect for each other's collections.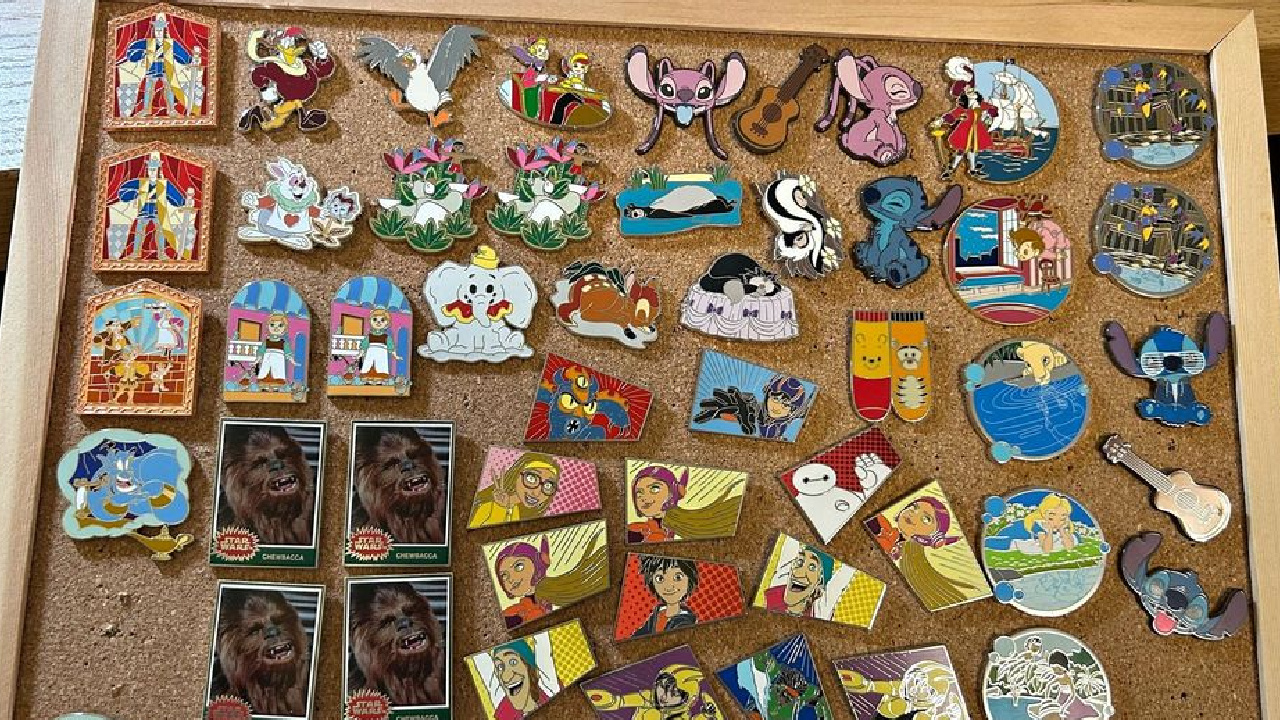 Identifying Authentic Disney Pins
As you delve further into Disney Pin Trading, understanding how to distinguish genuine Disney pins and steer clear of counterfeit or scrapper pins becomes imperative.
This will ensure that your collection remains high-quality and legitimate.
In this section, we'll discuss the features of authentic pins and tips for avoiding a fake pin and scrapper pins.
Features of Authentic Pins
Authentic Disney pins can be recognised by their:
Official Disney Mickey Mouse ear backing
Vibrant colours
Glossy finish
Cloisonné, semi-cloisonné, and hard enamel metal materials
Craftsmanship involved in creating this type of metalwork
Specific design elements, such as authorised designs by Disney, soft enamel material, unique designs, limited editions, glitter, and moving parts
These characteristics distinguish authentic Disney pins from fake ones.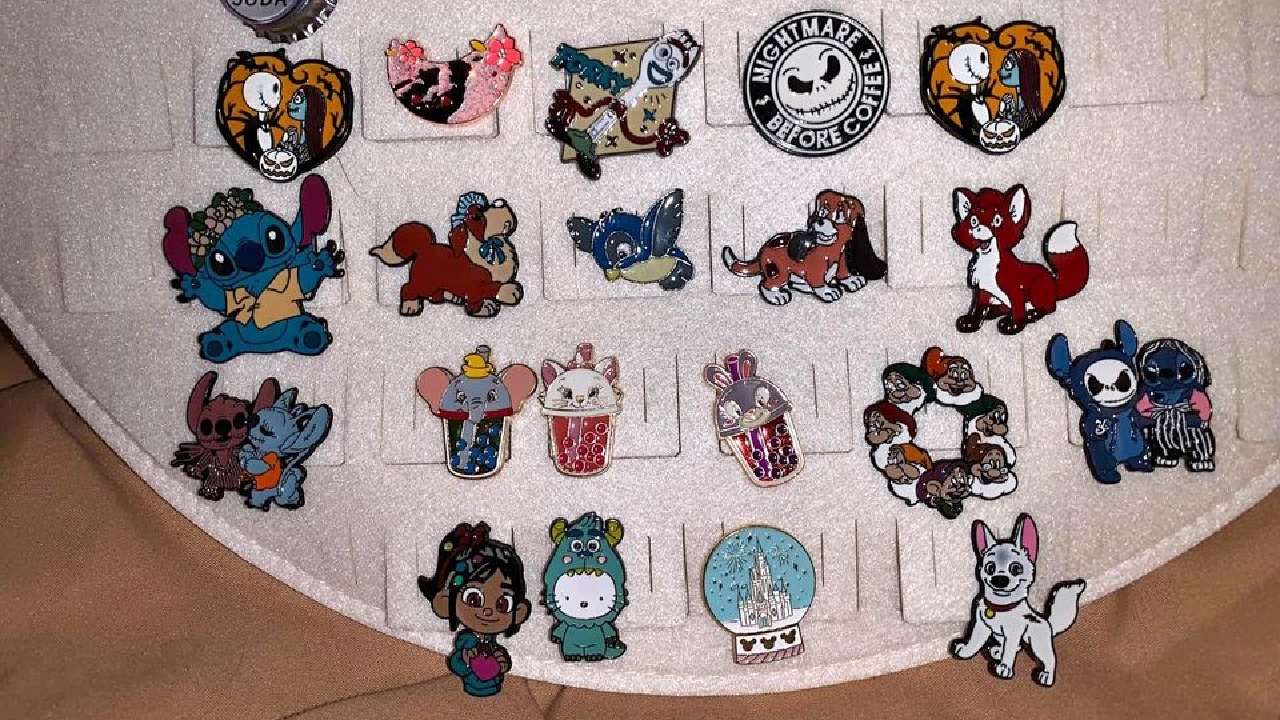 Avoiding Fake and Scrapper Pins
Avoiding fake and scrapper pins is essential to maintaining the integrity of your Disney pin collection.
You can protect yourself from these counterfeit pins by:
Purchasing from trusted sellers with high ratings
Being cautious of deals that seem too good to be true
Educating yourself on the features of authentic pins
Learning the signs of counterfeit pins
By following these steps, you can ensure that your collection remains genuine and valuable.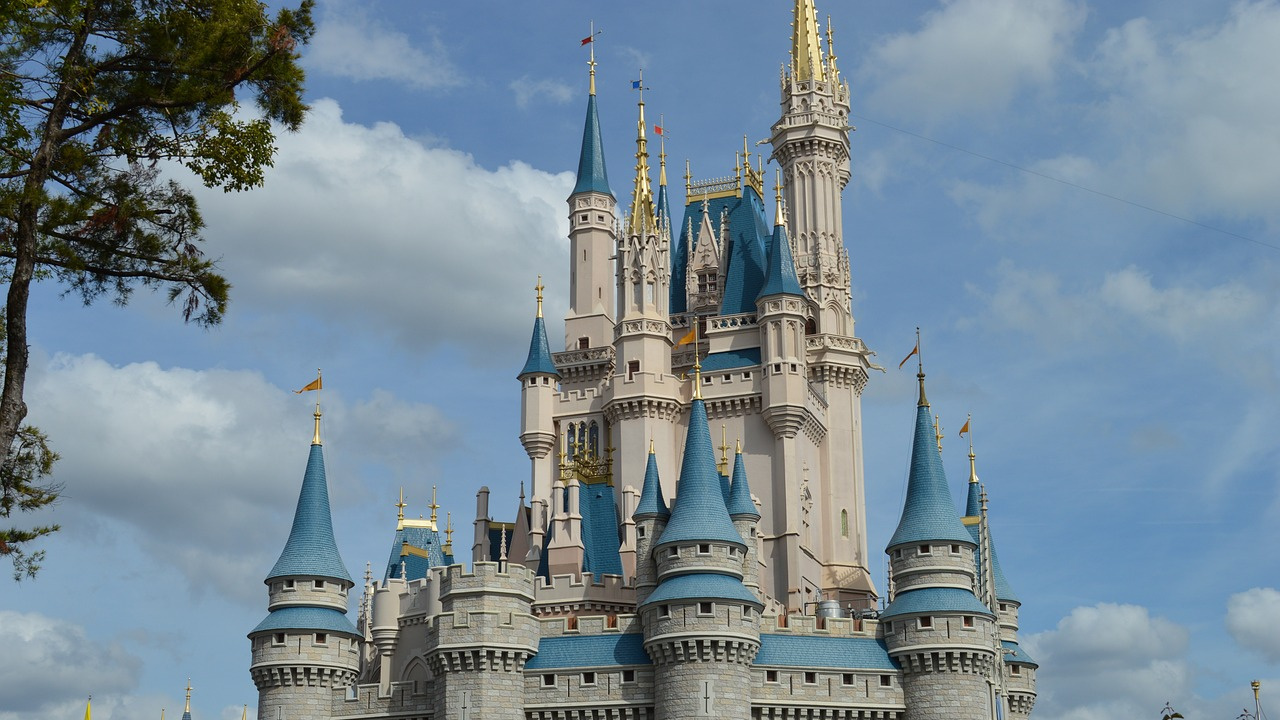 Best Locations for Pin Trading
Armed with knowledge about Disney Pin Trading, it's time to identify the prime locations for pin trading at both Walt Disney World Resort and Disneyland Resort.
These locations include specific stores, kiosks, and trading spots that are ideal for discovering new pins and trading with fellow enthusiasts.
Walt Disney World Resort
Walt Disney World Resort offers numerous pin trading locations across its parks, Disney Springs, and resort hotels.
Some of the top pin trading spots include Disney's Pin Traders at Disney Springs, Frontier Trading Post at Magic Kingdom park, and Pin Traders – Camera Center at EPCOT.
Additionally, each Disney Resort hotel has its own gift shop, offering a selection of Disney Pin Trading merchandise.
Disneyland Resort
At Disneyland Resort, you'll find a variety of pin trading hotspots within the parks and Downtown Disney.
Some of the best kiosks for Disney pin trading include Le Petit Chalet (gift shop by Matterhorn) and the kiosk across from Small World.
Another great location is Disney's Pin Traders, located near the Monorail station. These spots are perfect for discovering new pins and engaging in exciting trades with fellow guests.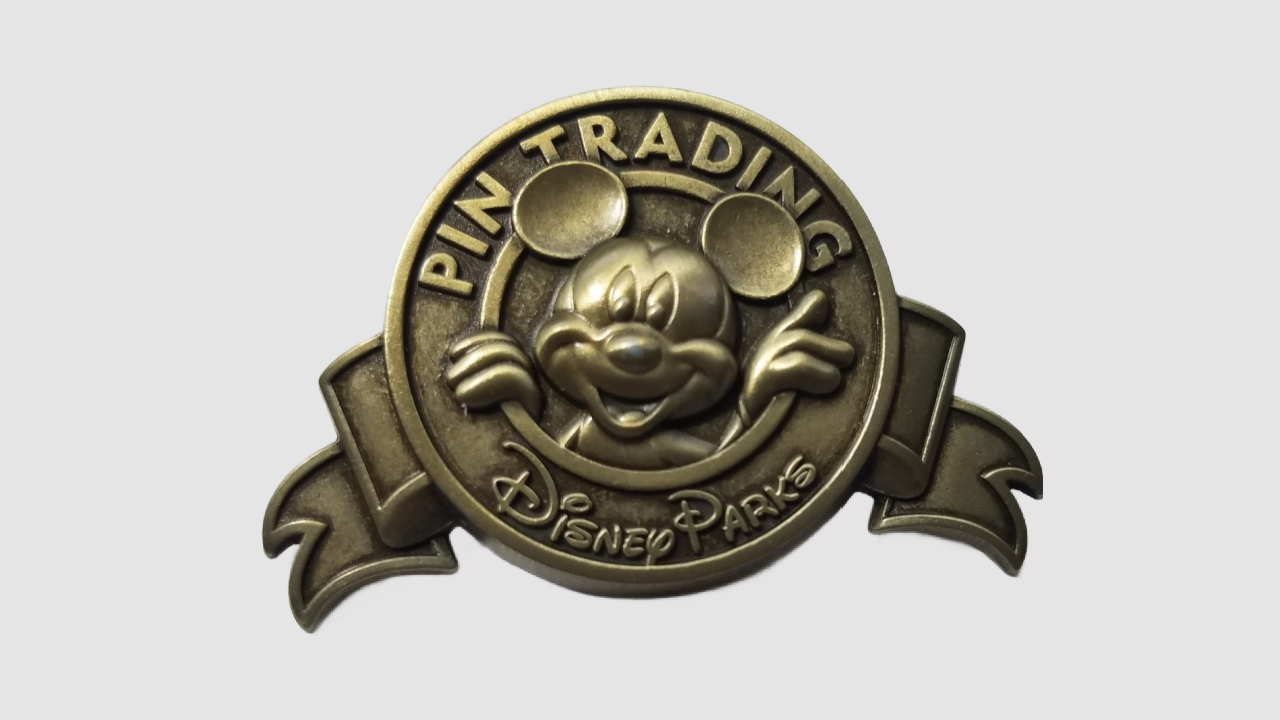 Special Events and Pin Releases
For enthusiastic Disney pin collectors, special events and pin releases pave the way to acquire rare and exclusive pins.
In this section, we'll explore some of the exciting events and upcoming pin releases that you won't want to miss!
Disney Pin Trading Events
Disney Pin Trading events are fantastic gatherings where pin enthusiasts can trade pins, attend workshops, and participate in exclusive activities.
Some of the most popular Disney Pin Trading events include the Pin Trading Time event at Disney Sequoia Lodge and the Magic HAP-Pins trading event at Walt Disney World.
These events offer limited edition and exclusive pins for collectors, making them an exciting experience for all who attend.
Upcoming Pin Releases
For those looking to add even more magic to their collection, there are several upcoming Disney pin releases to look forward to. Some of these releases include:
Happy New Year 2023 Disneyland Pin
Pin releases at Disneyland Resort and Walt Disney World Resort
Special holiday pins featuring Muppets characters Sam Eagle and Kermit the Frog
To stay up-to-date on these and other exclusive releases, follow websites like DisneyPinsBlog.com and check the official Disney pin trading website.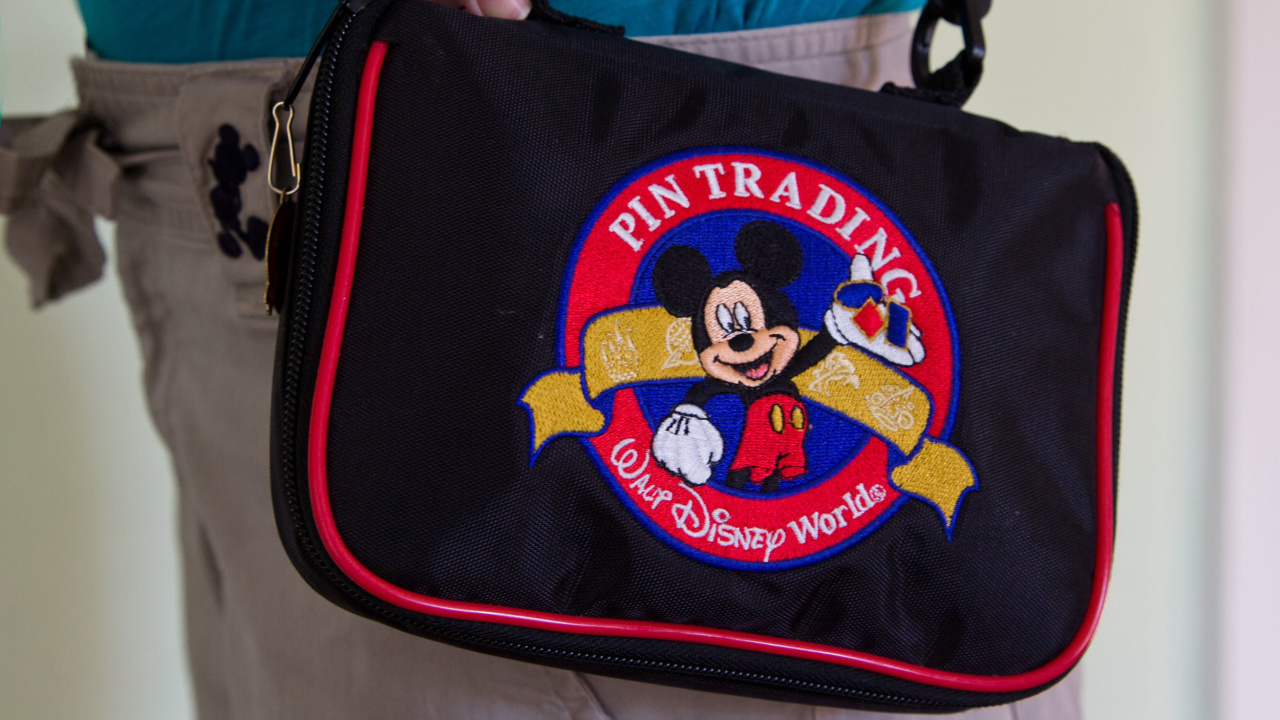 Displaying and Organising Your Disney Pins
Once you've amassed a remarkable collection of Disney pins, you'll desire to display them in an aesthetically pleasing and orderly fashion.
In this section, we'll discuss creative ideas for displaying and organising your Disney pins, from pin boards and lanyards to DIY display solutions.
Pin Boards and Lanyards
Pin boards and lanyards are favoured choices for exhibiting Disney pins, offering convenient access and visibility.
You can find a variety of Disney-themed pin boards at shopDisney.com or create your own using cork boards, foam, or felt.
Lanyards, on the other hand, can be purchased at Disney parks or customised for a more personalised touch.
DIY Display Ideas
For those inclined towards a more tailored approach, numerous DIY display concepts exist for crafting distinctive pin storage solutions.
Some options include shadow boxes, cork boards, and custom frames. You can find step-by-step tutorials for creating custom pin displays on websites like Touring Plans, Polka Dot Chair, and Amber Simmons' blog.
With a little creativity, you can design a display that truly showcases the magic of your Disney pin collection.
Final Thoughts
Disney Pin Trading is a captivating and interactive hobby that brings joy to collectors and Disney lovers alike.
By understanding the history, rules, and etiquette of pin trading, building a diverse and valuable collection, and displaying your pins in creative and organised ways, you'll be well on your way to becoming a master of Disney Pin Trading.
So, why not dive into this magical world and start your own enchanting pin trading journey today?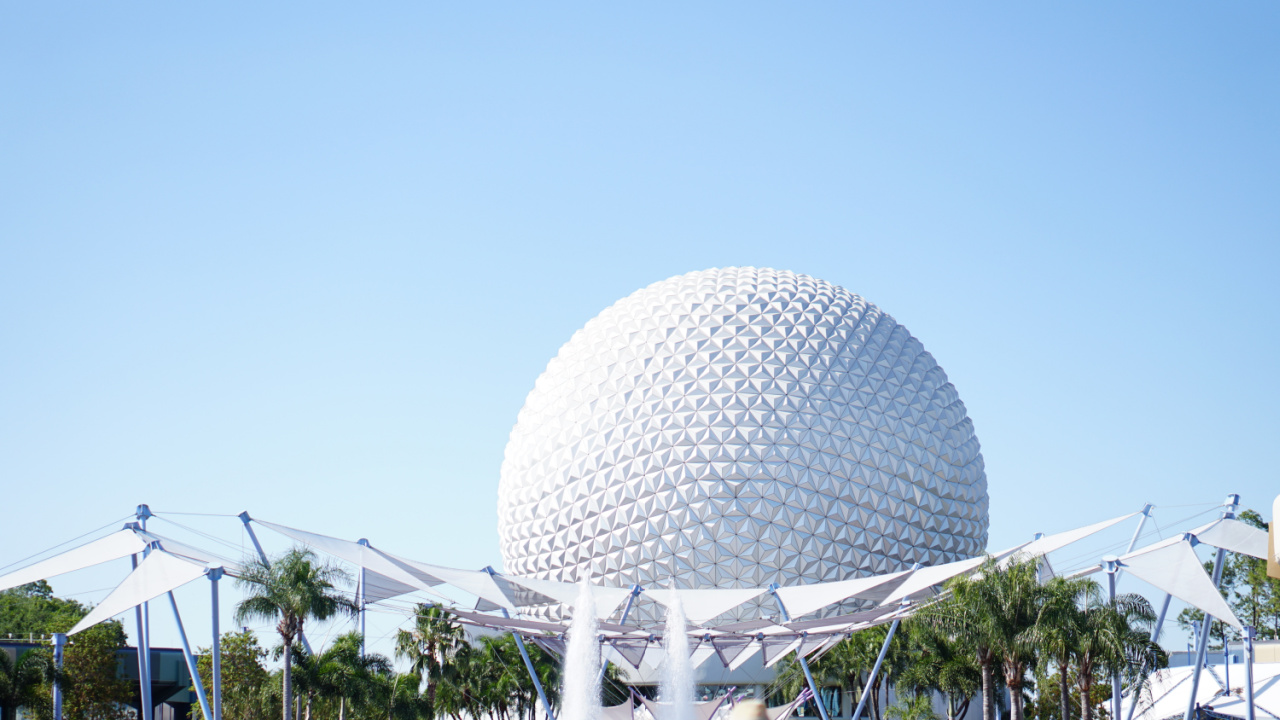 Frequently Asked Questions
Starting with Disney Pin Trading? We answer common questions to help you understand it better.
Does Disney still allow pin trading?
Yes, Disney still allows pin trading! Guests can purchase pins or trade with other Guests and Cast Members throughout the parks, or they can find pin boards located in or outside gift shops and various locations around Walt Disney World. Pin trading changed during COVID-19, but has since returned in a new form.
How do Disney trading pins work?
Experience the magic of Disney pin trading with Cast Members at Walt Disney World, the Disneyland Resort or Disneyland Paris – just find a pin you'd like and trade your own pin to take it home. Make sure the pins are in place and that you don't touch another person's pins or lanyard. Enjoy up to two trades per day!
Is Disneyland getting rid of pin trading?
Disneyland is cracking down on professional pin traders, taking measures to restrict them from setting up their pin boards in both Frontierland and California Adventure. This means that although pin trading may not be going away, the traditional pin trader experience could soon become a thing of the past.
What's the difference between limited edition and exclusive Disney pins?
Exciting news! Limited edition Disney pins have a fixed production size and won't be available after they sell out, whereas exclusive Disney pins are released for a certain period and then become unavailable.
How can I determine the value of a Disney pin?
Research the value of your Disney pin by consulting trader magazines and guides, and checking online auction and collecting sites. Popular characters or attractions will usually have a higher value, so take that into account when determining the worth of your pin.