Ultimate Guide to the All the Rides at Volcano Bay for 2024
Ultimate Guide to the Rides at Volcano Bay
You're probably here because you've heard how amazing Volcano Bay is. And you're right!
With tropical vibes, cool cabana spots, tasty food, and epic rides, it's the top water park in Orlando.
And trust us, with rides like the Krakatau Aqua Coaster that shoot you through a massive volcano, you're in for a treat!
What's super cool is their Tapu Tapu system. Basically, it means less time waiting in lines and more time having fun.
Let's dive into the best rides at Volcano Bay for 2024!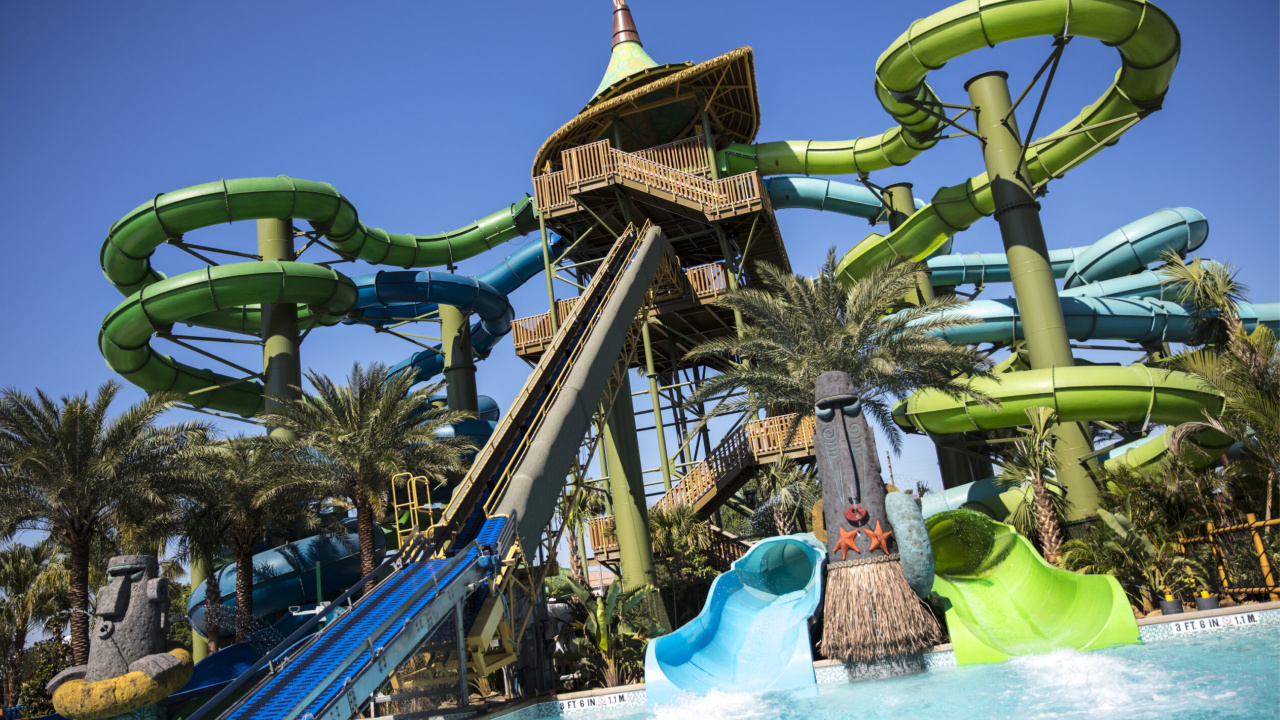 What is Volcano Bay?
Volcano Bay isn't just another water park; it's a tropical paradise right in the heart of Orlando. Think of it as a splashy escape where the sun shines brighter, the slides are wilder, and every moment feels like a summer vacation.
At its heart, Volcano Bay revolves around the tale of the Waturi people. Everywhere you look, there are traces of their culture, from the music playing in the background to the designs on the slides. This is Universal's way of crafting an immersive story, and trust us, they nail it every time.
Of course, no one can forget the park's iconic Krakatau volcano. It's not just there for the aesthetics, though. Inside this mighty structure lies some of the park's most thrilling rides, like the Krakatau Aqua Coaster. And when the sun sets? It lights up, adding a touch of magic to your evening.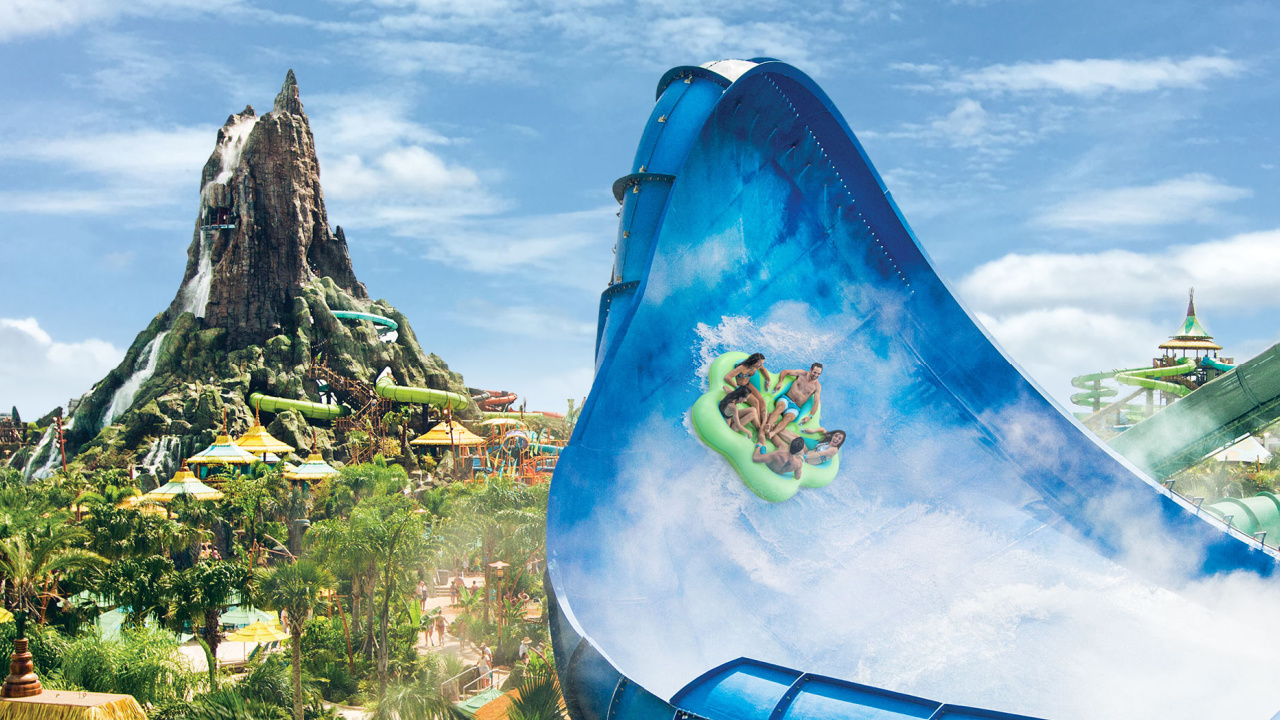 What is the TapuTapu System?
When it comes to innovative theme park experiences, Universal's Volcano Bay stands out with its unique TapuTapu system. If you've ever felt the sting of waiting in long lines under the scorching sun, you'll appreciate the genius behind TapuTapu.
Every guest at Volcano Bay receives a complimentary TapuTapu wearable upon entering the park. This waterproof device is not just a cool accessory – it's your key to unlocking a seamless park experience. Here's what you need to know:
Virtual Queues: Gone are the days of standing in line for hours. Instead, with TapuTapu, you can join a virtual queue for your favourite attractions. Simply tap your device at the totem in front of a ride, and it'll alert you when it's your turn. This means more time to chill, explore, or grab a snack.
Interactive Surprises: The park is dotted with hidden interactive elements. Want to trigger a water cannon or discover secret messages? With your TapuTapu, you can interact with these playful touchpoints throughout the park, adding an extra layer of fun to your day.
Locker Access: No need to fumble around with locker keys or codes. TapuTapu doubles up as a key to your assigned locker, ensuring that your belongings are always secure while you're off having a splash.
Cashless Payments: Load your TapuTapu with your payment details and enjoy a cashless day at Volcano Bay. Whether you're craving a tropical cocktail from the Dancing Dragons Boat Bar or an Island BBQ Chicken Pizza, a simple tap pays for your treats.
Photo Capture: Remember those epic moments when you're shooting down the Ko'okiri Body Plunge or laughing with friends at Waturi Beach. TapuTapu syncs with the park's photo capture system, ensuring all your memories are caught on camera.
In a nutshell, TapuTapu transforms your Volcano Bay experience, letting you focus on the fun and cutting down the hassles. Make sure to return the device before you leave to avoid any additional charges!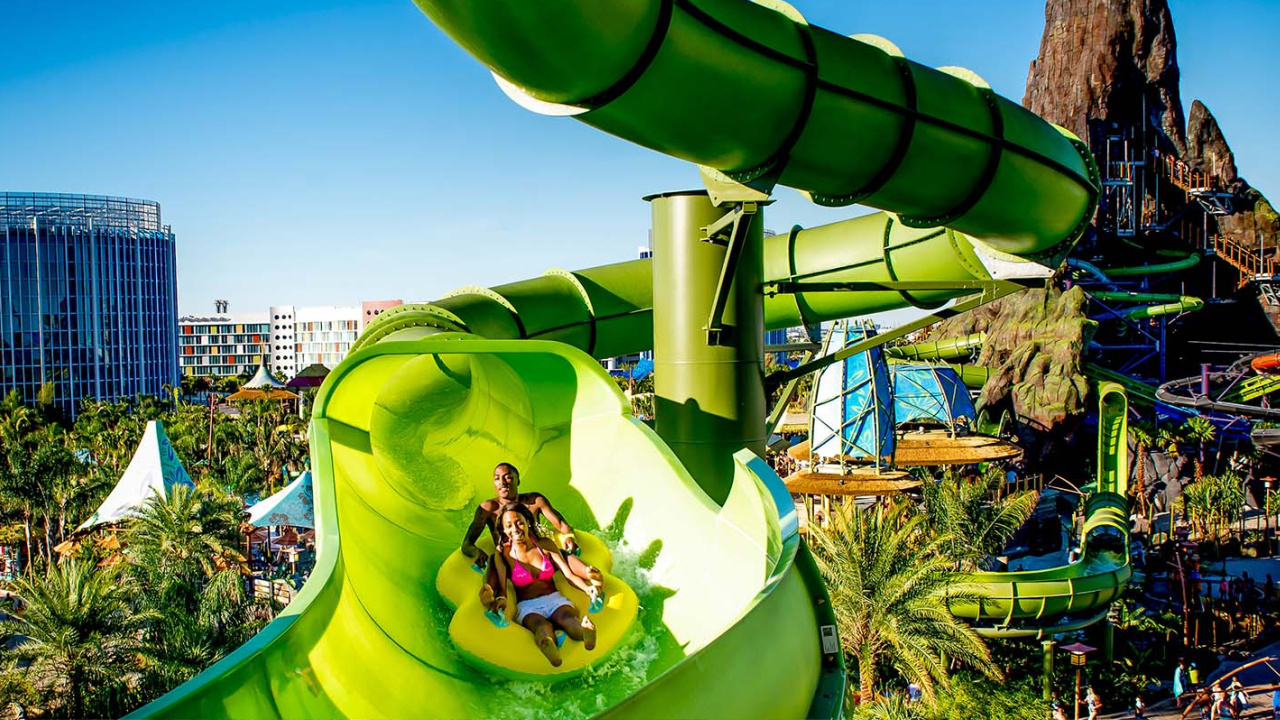 List of Rides at Volcano Bay
1. Raki and Tonga of Taniwha Tubes: Dual twisting water slides that spiral amid tropical landscapes. Guests can choose between Raki (with its surprising turns) or Tonga (packed with sudden dips), ensuring an adventurous descent.
2. TeAwa The Fearless River: Not your typical lazy river. This high-speed torrent river sweeps guests along a turbulent path, offering waves and fast currents that promise a heart-pounding experience.
3. Puka Uli Lagoon: A serene lagoon perfect for relaxation after some thrilling rides. This lagoon boasts calm waters and interactive water features for a bit of gentle fun.
4. Maku Puihi Round Raft Rides: A multi-person rafting experience. Maku is a spinning rapids ride that offers drenching waterfall encounters, while Puihi is a thrilling plunge through a dark, twisting cavern that ends with an unexpected drop.
5. Honu ika Moana: Two different slide experiences in one location. Honu offers a sweeping ride on a multi-passenger raft, gliding on huge, wall-like curves, whereas ika Moana is a winding journey with surprising twists and turns.
6. Runamukka Reef and Tot Tiki Reef: A kids' paradise! These play areas come with kid-friendly slides, spraying water, and interactive features. Runamukka Reef has playful turrets and Tot Tiki Reef offers bubbly geysers.
7. Kopiko Wai Winding River: A calm, meandering river journey, featuring shimmering caverns, water effects, and night-time lighting that creates a soothing ambiance.
8. Ko'okiri Body Plunge: The ultimate adrenaline rush! This body slide drops guests from a height, giving the sensation of free-fall, before they shoot through a clear tube.
9. Kala and Tai Nui Serpentine Body Slides: A pair of thrilling slides where guests will twist and turn in tight coils. Both slides offer their unique journey, ensuring that each descent is a new adventure.
10. Punga Racers: A competitive slide where guests race head-first on mats through intertwining tubes, aiming for the ultimate victory splash.
11. Ohyah and Ohno Drop Slides: Adventure slides that end with a bit of a surprise! Ohyah offers a twisty descent, concluding with a drop into deep water, while Ohno is a longer, winding slide that finishes with a bigger drop into a pool below.
12. Waturi Beach: A sprawling, sandy beach with a shimmering lagoon, located at the foot of the majestic Krakatau volcano. Perfect for relaxation and sunbathing.
13. Krakatau Aqua Coaster: The crown jewel of Volcano Bay. This multi-passenger ride propels guests upward using magnetic fields and then releases them into a series of thrilling drops and dark passages inside the iconic volcano.
Learn the Height and Weight Requirements at Universal's Volcano Bay.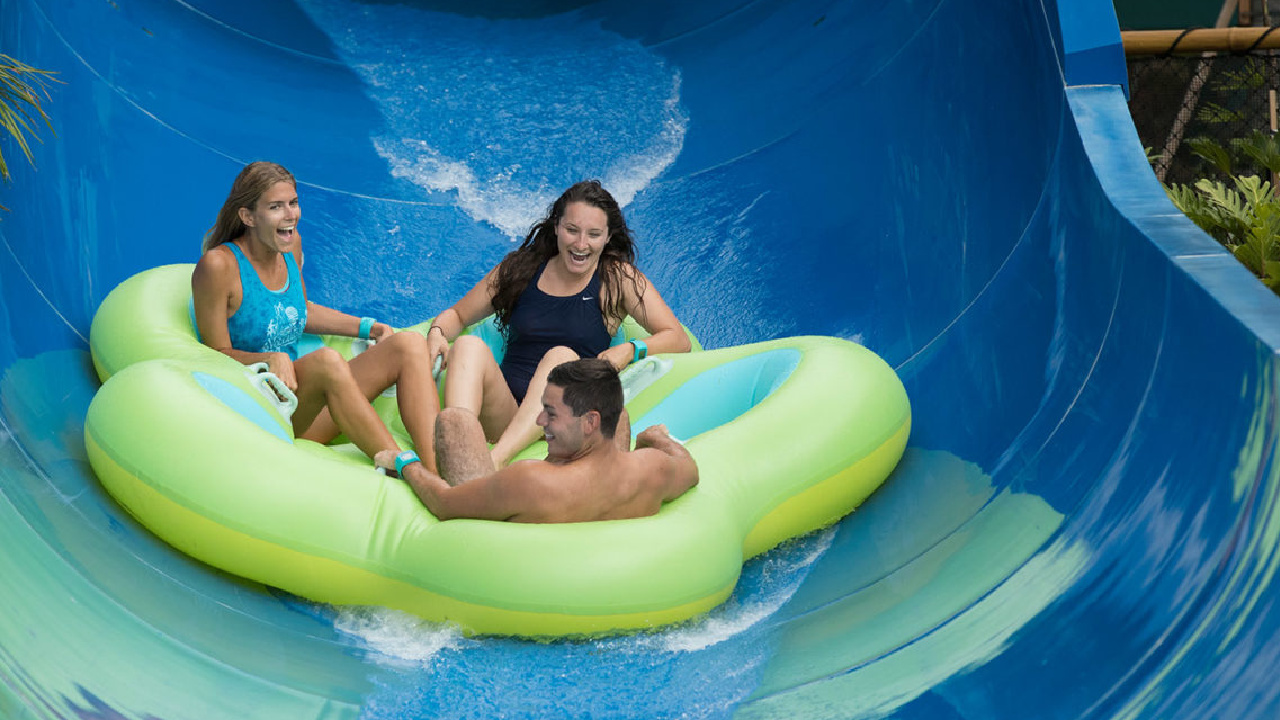 When is the Best Time to Visit Volcano Bay?
Timing is everything, especially if you're looking to enjoy Volcano Bay without the jam-packed crowds. Typically, weekdays during the off-peak season (like late winter or early spring) are quieter. But if you're set on visiting during the summer, try aiming for a weekday.
Keep an eye out for special events or offers. Sometimes, Universal Orlando Resort runs promotions or packages that include early park access or other perks. It's a good way to get ahead of the crowds and maybe even save some cash.
Of course, it's also important to consider Florida's unpredictable weather. Even on a sunny day, afternoon rain showers can be a regular thing. So, pack a poncho, stay flexible, and maybe even embrace the rain – after all, you're already at a water park!
Conclusion
So, there you go! Everything you need to know about Volcano Bay in 2024. Remember, whether you're racing down a slide or chilling by the lagoon, it's all about having fun.
So, buy your Volcano Bay Tickets, Grab your Swimwear and enjoy an epic day of fun!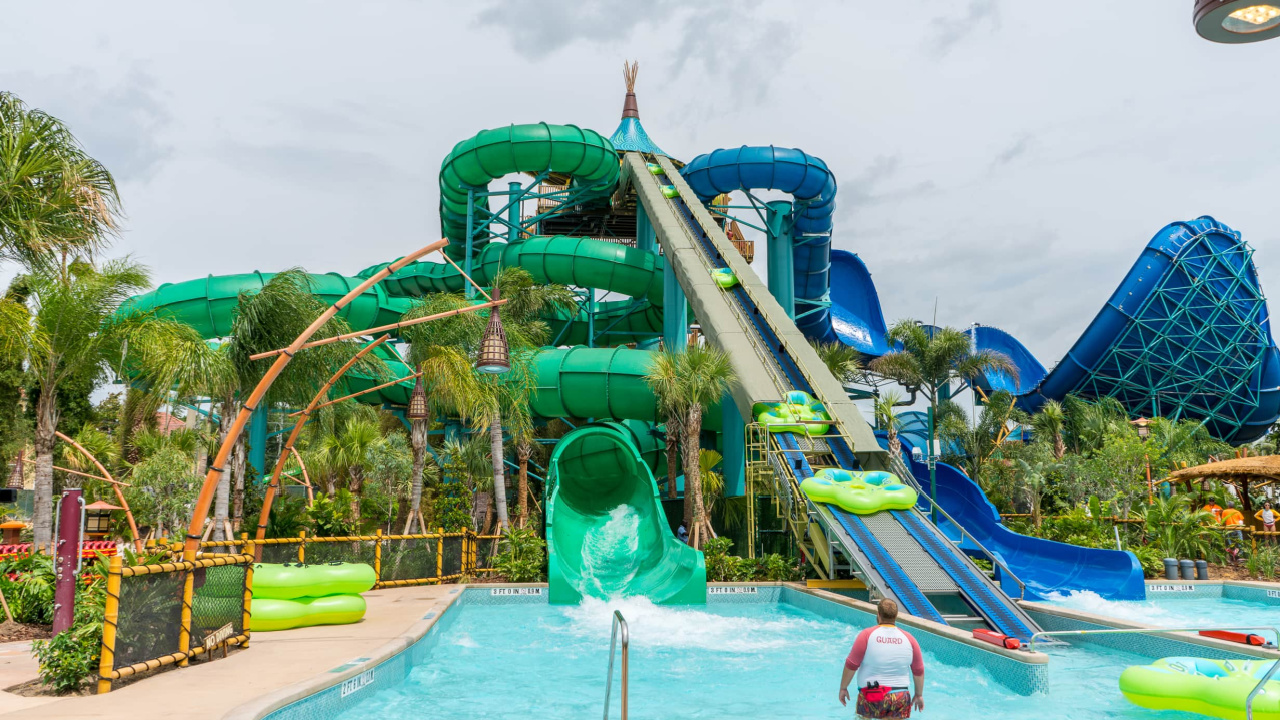 Frequently Asked Questions
In this section we answer your frequently asked questions on the rides at Volcano Bay.
Is there a lazy river at Volcano Bay?
Yes, Volcano Bay offers the Kopiko Wai Winding River, a relaxing lazy river experience that winds gently through the park, perfect for all ages.
What is the fastest water slide at Volcano Bay?
The Ko'okiri Body Plunge at Volcano Bay is renowned as the fastest slide, plunging riders down a near-vertical 125-foot drop right through the heart of the park's central volcano, Krakatau.
How many rides does Volcano Bay have?
Volcano Bay boasts a total of 19 attractions, which include a mix of thrill rides, family-friendly slides, and relaxation zones.
Is there a wave pool at Volcano Bay?
Yes, Volcano Bay features Waturi Beach, a wave pool with a view of the majestic Krakatau volcano. It's a popular spot for guests to relax and enjoy the waves.
Can toddlers enjoy Volcano Bay?
Absolutely! Volcano Bay offers the Tot Tiki Reef, a play area designed specifically for toddlers with shallow waters, mini slides, and fun water features.
What's the height requirement for the Krakatau Aqua Coaster at Volcano Bay?
To enjoy the Krakatau Aqua Coaster at Volcano Bay, riders need to be at least 42 inches tall. Those who are between 42″ and 48″ are required to ride with an adult.
Are the rides at Volcano Bay open year-round?
Yes, thanks to Florida's warm climate, Volcano Bay generally operates year-round. However, it's always a good idea to check the park's official schedule for any seasonal closures or maintenance days.
Does Volcano Bay have any multi-person raft rides?
Yes! Volcano Bay features rides like the Maku Puihi Round Raft Rides and Honu ika Moana, which allow multiple guests to ride together in a single raft.
Is Volcano Bay just about thrill rides?
While Volcano Bay has its fair share of thrill rides, it also offers a balance of relaxing attractions, kid-friendly zones, and places to unwind and soak up the sun.
Which ride at Volcano Bay offers the best view of the park?
The Krakatau Aqua Coaster at Volcano Bay provides an exhilarating ride experience combined with some of the most scenic views of the entire park as it travels through and around the volcano.
Which is the closest Universal hotel to Volcano Bay?
The closest Universal hotel to Volcano Bay is Universal's Cabana Bay Beach Resort. Not only is it within walking distance, but guests staying at Cabana Bay also enjoy exclusive benefits like early park admission to Volcano Bay, making it a popular choice for those looking to maximise their time at the water theme park.