Ultimate Guide to Tron Lightcycle Run at Disney World for 2024
Ultimate Guide to Tron Lightcycle Run at Disney World
Embarking on the thrilling journey of the Tron Lightcycle Run at Walt Disney World for the first time? We've got your back!
In this ultimate guide, you will find everything you need to know about this awesome ride from height requirements and locker usage to virtual queues and more!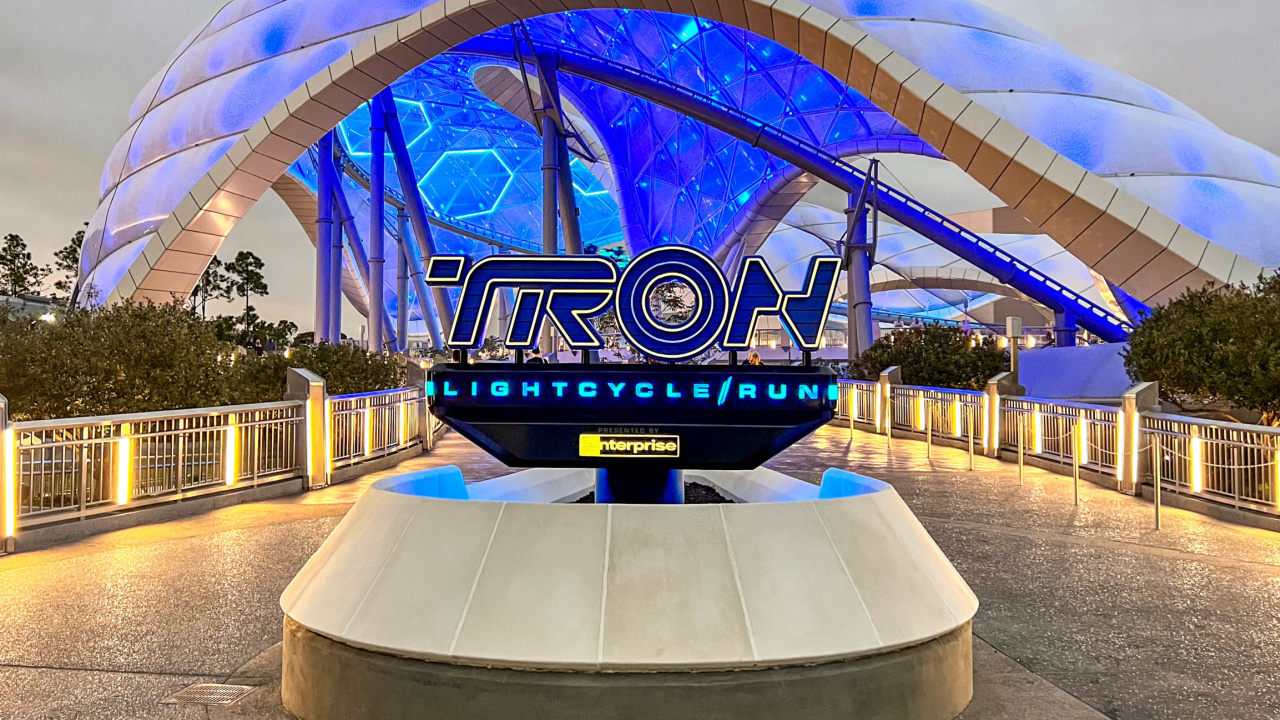 What is Tron Lightcycle Run?
Step into the digital world of Tron and join the ultimate race for survival! Leave reality behind and join Team Blue or Team Orange in a thrilling journey across the Grid—the dark, computerized realm of Tron.
Hop on your very own Lightcycle and embark on a high-speed adventure as you compete against the Grid's most intimidating Programs. Dash past your competitors as you aim to navigate through the eight energy gates to secure your team's victory. Get ready for one of the fastest coasters in Disney!
This adrenaline-pumping roller coaster is one of Disney's speediest attractions, hitting top speeds that truly provide a high speed race. It's located right inside Magic Kingdom's Tomorrowland, a section of Disney's iconic theme park.
Riding the Tron Lightcycle Run: Virtual Queue and Lightning Lane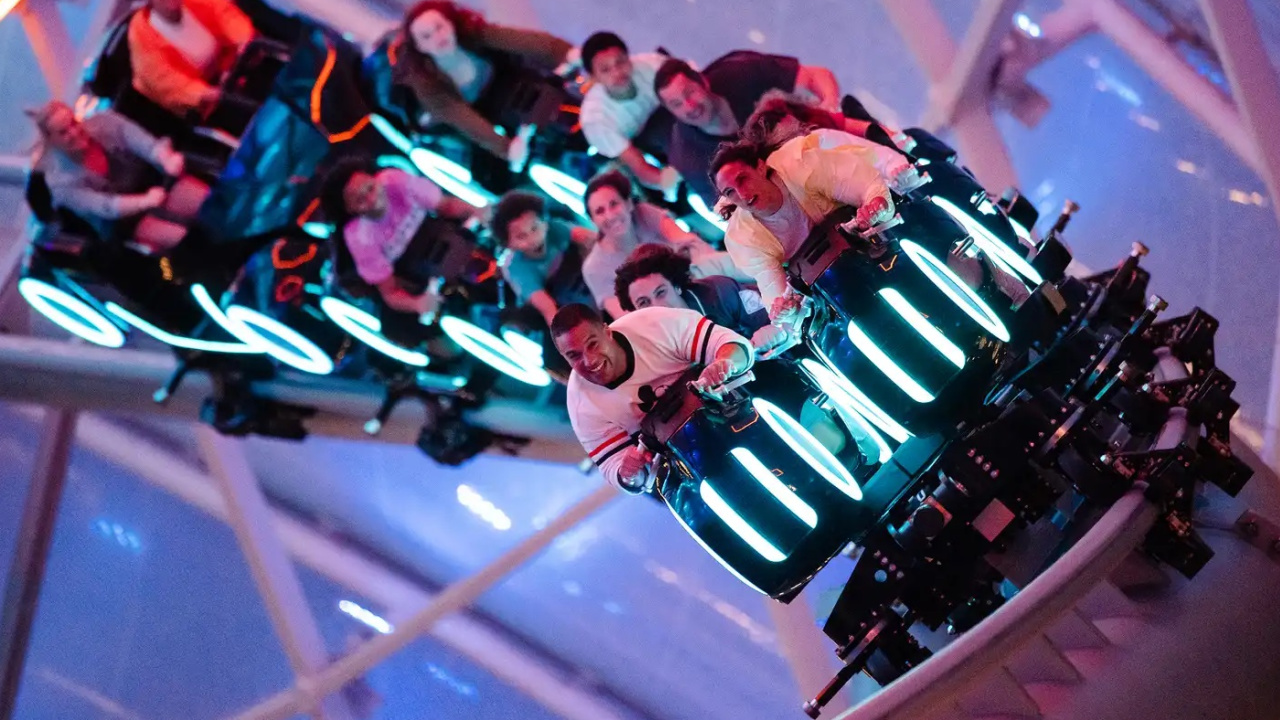 Virtual Queue:
The Tron Lightcycle Run uses a virtual queue system, meaning guests must use the Disney Experience App to reserve a spot for the ride.
Each guest can join the virtual queue once per day during regular park hours. Note: If you haven't tapped into Magic Kingdom, you will need to have a Magic Kingdom reservation.
Joining times include 7:00 AM (guests don't need to be in the park but must have a Magic Kingdom park reservation) and 1:00 PM (guests must be in Magic Kingdom).
For guests staying at a Disney Deluxe Resort or other select hotels, additional opportunities to join the virtual queue are available at 6:00 PM on select dates during extended evening hours.
Individual Lightning Lane:
Alongside the virtual queue, Individual Lightning Lane selections are available for the Tron Lightcycle. This separate paid option lets you reserve your ride at 7:00 AM if you're staying onsite, or once you enter Magic Kingdom if you're staying offsite. To ensure you get to ride Tron using this option, it's suggested to stay onsite.
Queue and Boarding:
There are two queue lines for Tron: the "standby" queue for those with a boarding group and the Lightning Lane/DAS queue. If you have a boarding group number, stay to the right. Lightning Lane users will stay to the left. The loading into ride vehicles is also unique – one person has to walk around the ride vehicle to load from the other side.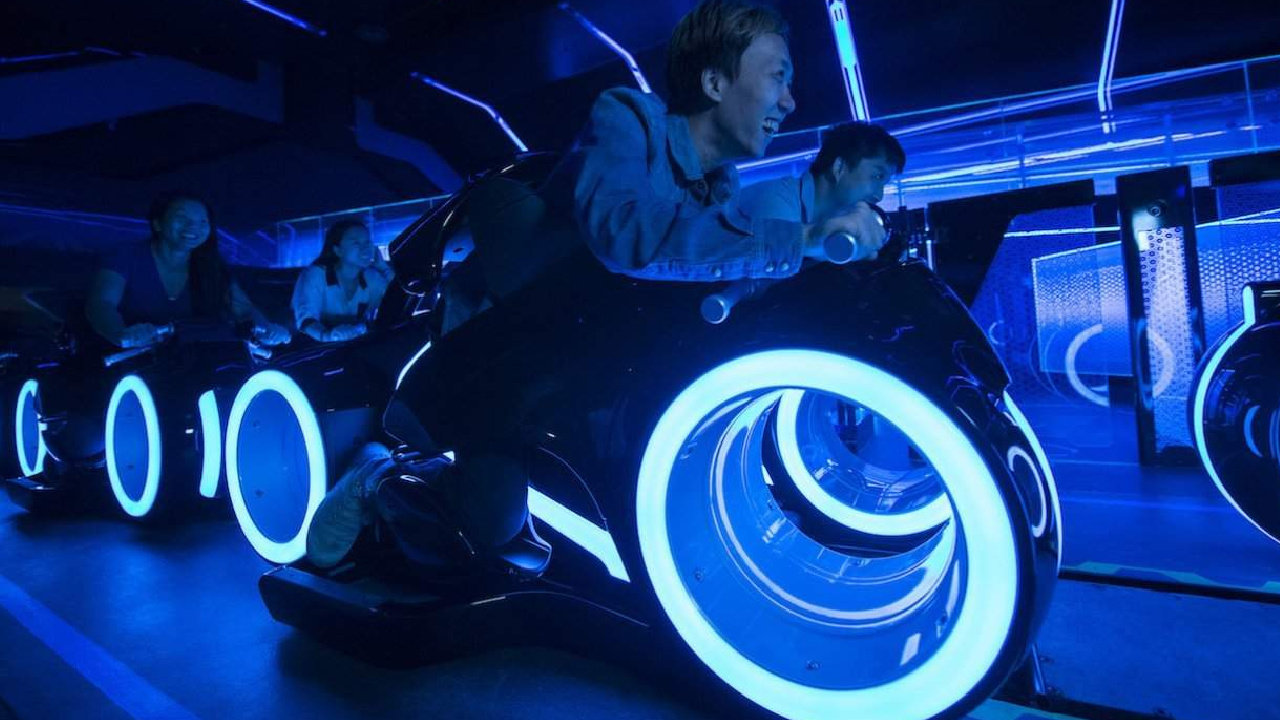 Lockers and Personal Belongings
Tron is the only ride at Disney World that requires guests to use lockers for personal belongings. If you have personal items that don't fit the small compartment on the ride vehicle, you must use a locker.
These lockers pair directly with your MagicBand or ticket media for easy locking and unlocking.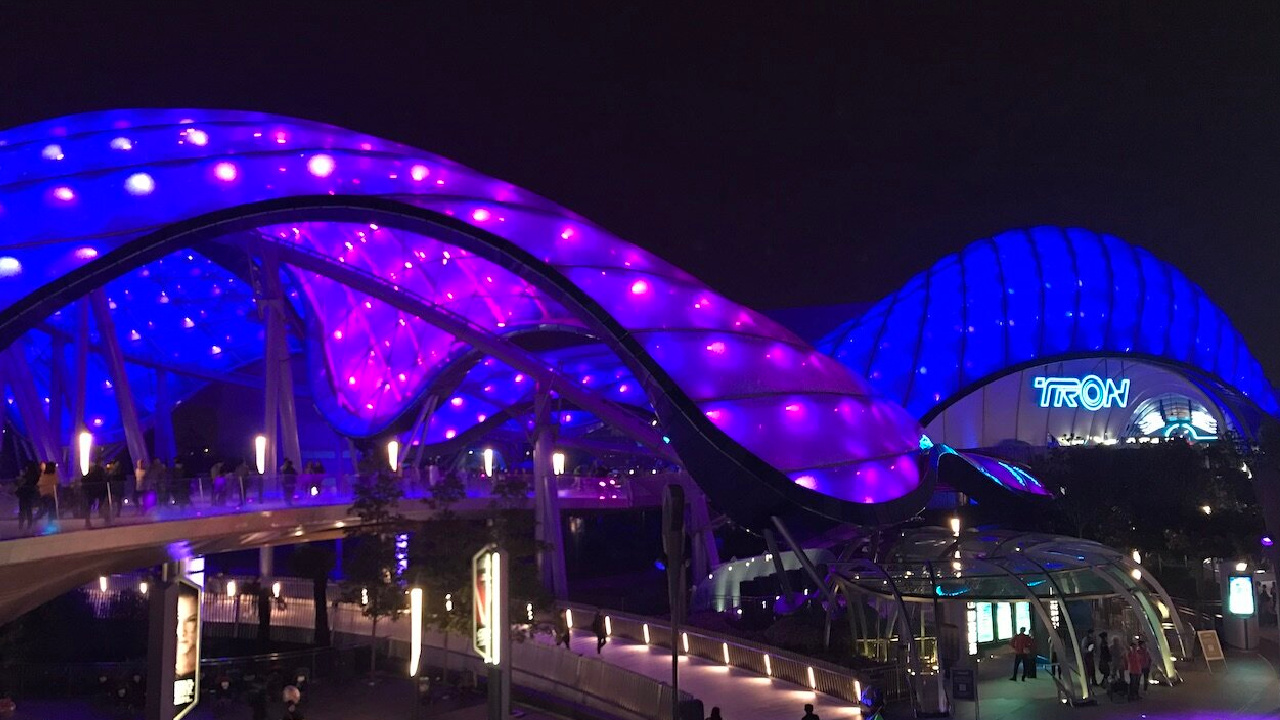 Ride Vehicle Concerns and Height Requirements
Due to the unique design of the Tron Lightcycle, guests of varying sizes and weights might find it challenging or impossible to ride.
Furthermore, due to the intense nature of the ride, those who suffer from chronic pain might not find it comfortable. The ride has a strictly enforced height requirement of 48″, and rider switch is available for Tron.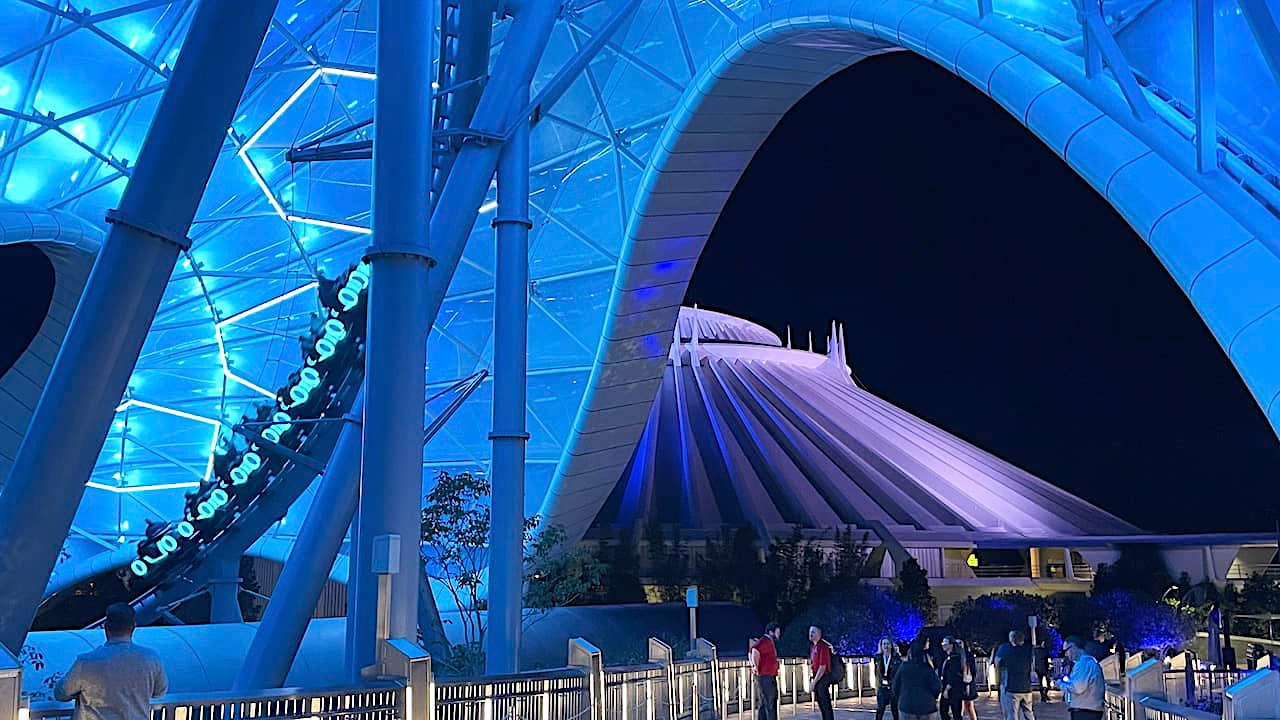 Merchandise and the Identify Program Experience
Venture into the Grid and discover three merchandise collections related to the attraction experience, the film "Tron: Legacy", or the nostalgia around this digital world introduced in 1982 with the original "Tron".
The Identify Program Experience allows you to create an action figure, or Program, that looks and sounds just like you.
So there you have it – your ultimate guide to the Tron Lightcycle Run at Disney World. Now, all you have to do is lean forward, rev up your Lightcycle, and get ready for the race of a lifetime on the digital frontier!
Remember, a high-speed adventure awaits in the world of Tron! Buckle up, it's going to be an unforgettable thrilling race on the Tron ride at Disney World!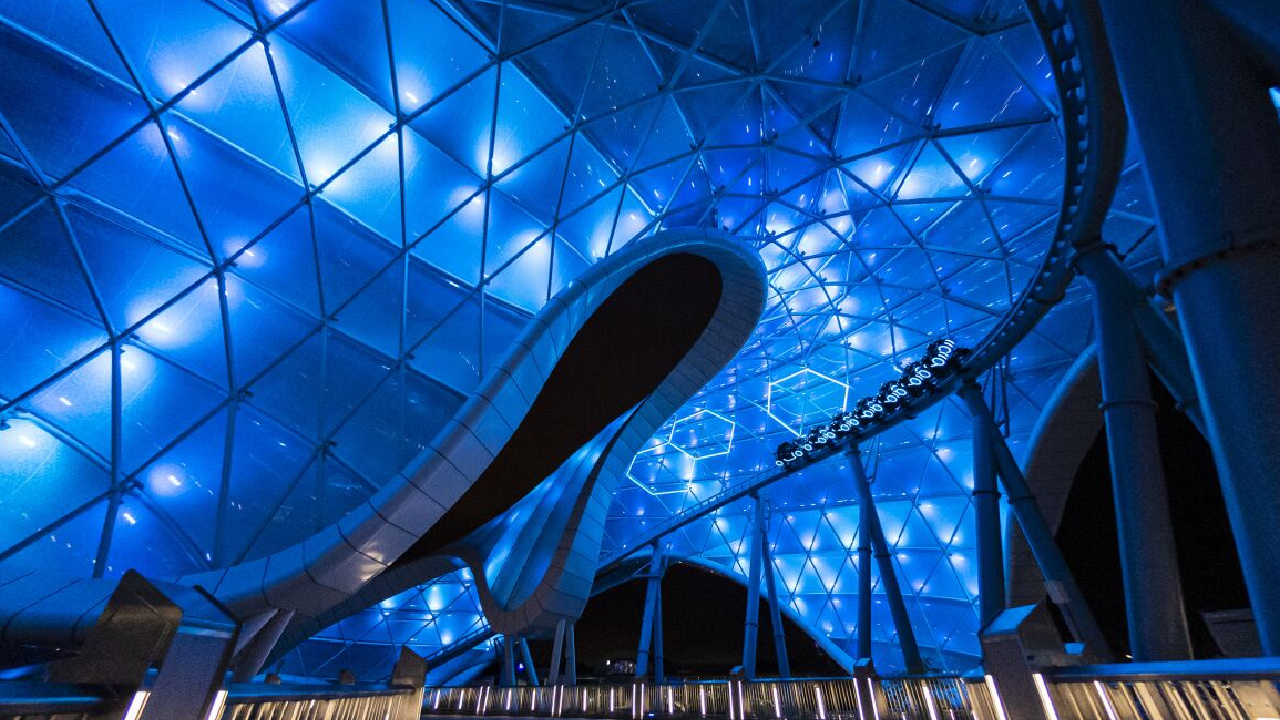 Frequently Asked Questions
In this section we answer your questions about Tron at Walt Disney World.
What is Tron Lightcycle Run?
Tron Lightcycle Run is a semi-enclosed launched steel motorbike roller coaster attraction at Walt Disney World's Magic Kingdom park in the Tomorrowland section. It's based on the Tron films and takes you on a thrilling race through the digital world on your very own lightcycle.
Where is Tron Lightcycle Run located?
Tron Lightcycle Run is located in the Magic Kingdom's Tomorrowland at Walt Disney World Resort. It's close to popular attractions like Space Mountain and Tomorrowland Speedway.
How can I get on the Tron Lightcycle Run ride at Disney World?
You can join the ride in two ways: either by joining the virtual queue on the Disney Experience App or by purchasing individual Lightning Lane access. Both options have certain availability restrictions, so planning ahead is crucial.
What is the virtual queue for Tron Lightcycle Run?
The virtual queue is a system that allows you to reserve a spot for the attraction using the Disney Experience App. Joining the virtual queue is subject to availability and can only be done at specific times during regular park hours.
What is the individual Lightning Lane?
The individual Lightning Lane is a paid access option for certain high-demand attractions like Tron Lightcycle Run. You can purchase this access through the Disney Experience App and it allows you to skip the traditional queue.
What are the height requirements for Tron Lightcycle Run?
The ride has a strictly enforced height requirement of 48″. It's recommended to measure your child's height before joining the virtual queue or purchasing individual Lightning Lane access to avoid disappointments.
Can I bring personal belongings on the Tron Lightcycle Run ride?
No, all personal belongings must be stored in a locker before boarding your lightcycle. These lockers are complimentary and can be locked and unlocked using your MagicBand or ticket media.
How fast does the Tron Lightcycle Run go?
Tron Lightcycle Run is one of Disney's fastest coasters, reaching speeds of up to 59 mph during the outdoor portion of the ride.
Is Tron Lightcycle Run suitable for everyone?
This high-speed adventure may not be suitable for guests of all ages or those with certain health conditions. It's recommended that you watch the pre-show and test seats are available near the ride's entrance for guests to determine their comfort before boarding.
Is Tron Lightcycle Run the same ride as the one in Shanghai Disneyland?
Yes, the Magic Kingdom version of Tron Lightcycle Run is similar to the Tron Lightcycle Power Run at Shanghai Disneyland. They both offer the same thrilling race through the digital world on lightcycles.